In a business environment where the flavor of the moment is digital transformation, how does corporate learning fit in? What are the main digital trends that will have a transformational effect on the way people in organizations learn over the next few years?
There is no shortage of candidates, as discussed in my previous blog post ("Digital Learning: Beyond the copycat model"), such as Massive Open Online Courses, digital classrooms like the iTunes U, and a plethora of mobile apps for all tastes and needs. But there is one key developing digital area that, despite being all over the news for a couple of years now, it is not often linked to the concept of learning: the sharing economy.
A sharing economy can take a variety of forms, including using information technology to provide individuals, corporations, non-profits, and governments with information that enables the optimization of resources through the redistribution, sharing, and reuse of excess capacity in goods and services. A common premise is that when information about goods is shared (typically via an online marketplace), the value of those goods may increase for the business, for individuals, for the community and for society in general.  (Source: Wikipedia)
"Sharing Economy" as a business jargon was pretty much unheard of by most of us until a few years ago, as it can be confirmed in the Google Trends chart below: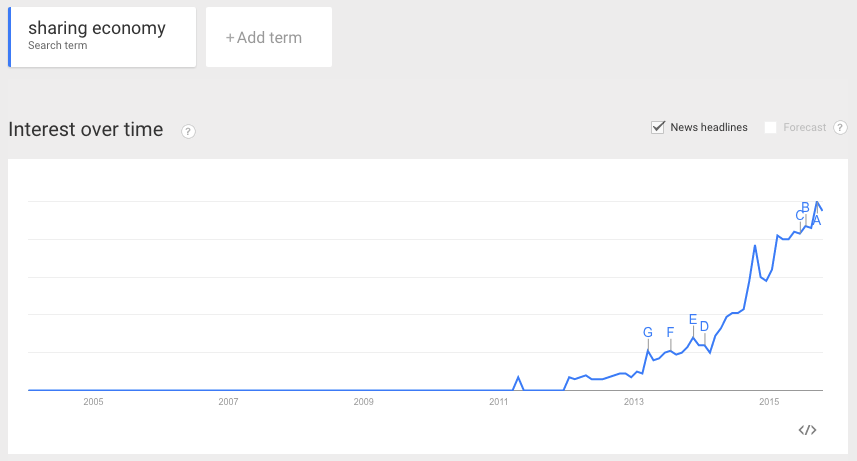 However, as services likes Airbnb and Uber became more popular, the business press obviously had to find a way to describe that phenomenon. It's no coincidence that the Google trends for those two terms follow almost exactly the same pattern as seen above: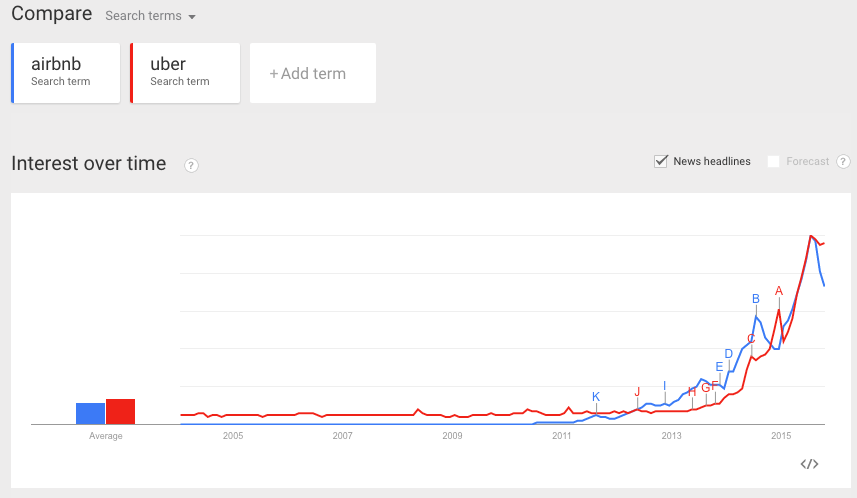 One of the reasons why corporate learning is not typically linked with the concept of the sharing economy is that the major stars in that space are famous for sharing very physical goods; namely, houses and cars. But one of the earliest examples of the sharing economy was the open source community, where a virtual good was being shared: computer code.
The fundamental commodity in a successful sharing economy model is excess capacity, most often translated as idle resources. In the case of corporate learning, one of the most common idle resources is unshared knowledge. In every organization, somebody somewhere always knows parts of what is needed to run its business. In very small companies, a single owner may have the whole thing figured out. In large enterprises, knowledge is simply too big to be held by one individual. Thus, it's fragmented over thousands of employees, contractors, and business partners, each of them holding a few pieces of a very large puzzle, and not having the means or the will to share them with others. This scenario resembles the pre-Airbnb and pre-Uber days, where plenty of real estate and private vehicles were sitting idle, while the incumbents, hotels and taxi companies, often could not meet the needs of their would-be customers.
What if organizations started making it easy for owners of idle resources (in this case, knowledge) to put them to good use, by lowering the obstacles to capture, share, and distribute knowledge?
Give knowledge owners a dead simple way of capturing their knowledge, and give them incentives to do so
Create a catalog with all that knowledge that's being shared
Make demand meet supply by creating a knowledge marketplace (the eBay of knowledge)
In other words, treat knowledge as you would treat physical goods. Help knowledge to travel from where it's produced to where it's needed, when it's needed. That's the sweet spot where corporate learning and digital transformation converge.