While some of you have been doing amazing things once and then allowing IFTTT work for you forever since December 14, 2010, this article is for the rest of you who are asking, "what's IFTTT?" Well, first, it's pronounced like gift without the G; secondly, it's a material conditional binary operator… if this, then that.



What IFTTT means to you is that you can quickly and easily pop onto the IFTTT website or their Android and iOS apps and start automating social media actions based on actual physical behaviors.

 It's thrilling!  While I have yet to do these sorts of small, flirty, things yet, I could presumably tweet @bobfine every time I pass by UberOffices on my motorcycle. I did that with a pre-baked recipe to tweet president Obama whenever I am near the White House. IFTTT can connect to my Android (or your iPhone), keep track of my GPS, and then, when I reach a perimeter of my choosing, as tight or as loose as I want to the White House, then my Android will alert IFTTT and a tweet will be sent.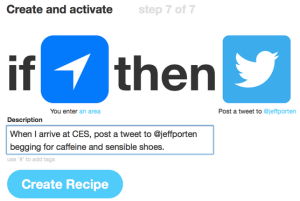 IFTTT can stalk your phone, your behavior on Twitter, Instagram, Bitly, Blogger, Buffer, Delicious, Facebook, Facebook Pages, Feedly, Fitbit, Flickr, Foursquare, your iOS or Android GPS location, LinkedIn, Pocket, Reddit, SoundCloud, Tumblr, Twitter, Withings, and even Yo (and so many more, I just cherry-picked). Then, you can make IFTTT do any number of cool things such as changing your profile picture on Twitter every time you change it on Facebook, automatically share all of your Instagram photos as Twitter-native images rather than just a link to Instagram, and all sorts of pre-packaged and pre-baked recipes you can go explore right now over on the Recipes to Streamline Your Social Media section of IFTTT — check it out but be sure to come back!
Some Useful Recipes You Can Use Right Now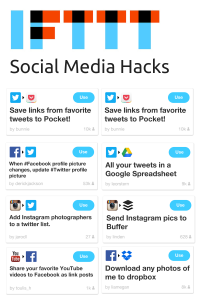 But that's only the beginning. Just remember four things:
Be careful about creating infinite loops that will quickly garbage up your feeds and streams
You can add more than one variation of the same recipe and that could really make a noise social media mess — audit your My Recipes tab after you've added a bunch just to make sure you haven't doubled-tripled-quadrupled your automated tasks.
Each pre-made recipe is only par baked — you can customize many of the above to your explicit needs
If you don't see what you need, please give IFTTT recipe-making on your own a try — it's very easy and you can really hit the nail on the head of your own explicit needs if you take the time to follow three guided steps.
I hope I didn't create a million monsters. Have fun playing but I really made a personal mess of things the first time I implemented IFTTT and needed to spend the next day auditing my work after enabling a bazillion recipes over the course of one day. I made a mess but I made an excusable mess that I quickly fixed — and I was able to easily do the audit via the handy suite of IFTTT Android apps — in this case, the IF by IFTTT app.
It's OK to be a little messy. I try to make as many mistakes on your behalf before you do, but on social media as in real life, it's better to be the life of the party instead of the wallflower, even if you end up being a bit of an arse sometimes. People forgive a little bit of the lout if you can generally remain the life of the party the rest of the time.
Any questions? Please pop them into comment. Otherwise, good luck and go git 'em, Tiger!