Links are ingrained in the very fabric of the web.
Without links, the internet simply would not function the way it does today. If you're marketing your business online, you must account for links. Not only are links enormously important, but link acquisition itself actually fits in quite naturally with other digital marketing strategies.
Links of course have tremendous value in regards to search and SEO. Google based its algorithm on links, and links remain at the core of Google's ranking systems. Google was able to set itself apart, and ultimately reach its household name status, because in part of the use of links in its algorithm.
Links have always signaled authority and trust online (long before Google even existed), serving as endorsements from one website to another. Google saw the power of links and leveraged that power within its search algorithm. As Cory Collins points out in his post for Search Engine Watch regarding the value of links:
"Links aren't valuable because of Google; Google is valuable because of its use of links" – Cory Collins
Google used links from day one and links continue to be extremely valuable in terms of search visibility. However, links also offer benefits beyond search, including:
Navigation – without links, the web wouldn't be navigable
Branding – whenever a new person uses a link to reach your site, they'll associate the link as a vote of confidence
Relationship building – no website will link without good reason; building a link is often the beginning of a fruitful relationship
For these reasons alone, you should make link acquisition a priority within your online marketing.
Of course if you're employing other digital marketing strategies you may not have room left in your budget to launch a full-scale link building campaign. Fortunately, links can be incorporated into your existing online marketing projects rather seamlessly if you simply keep them a consideration.
Link acquisition can effectually integrate into the following marketing strategies:
Content marketing
Public Relations (PR)
Pay-per-click (PPC)
If you're already running campaigns focused within these marketing disciplines, you can also pick up some links along the way with a little strategic planning and a deliberate link mindset.
Content Marketing
One of the most natural partners for link building is content marketing.
Don't get me wrong, it's possible to get links without content, but acquiring links becomes considerably easier when you have useful content worthy of links.
If you're investing in content marketing, you should absolutely make links a priority as well. Links support content marketing goals by extending the reach of your content and exposing it to new audiences.
Links also effectively increase the lifetime value of your content, since links directly correlate with search performance. The more visible your content in search, the more traffic that content will receive throughout its life.
It's possible to passively earn some links through the content you produce without any manual promotion. But as my boss Jon Ball would say, "For every link you earn, there are five more worth building".
For example let's looks at a local business from my hometown Boise, Idaho. Idaho Central Credit Union (ICCU) serves as a great example of a company that has invested in content marketing and is doing it right. Looking at the ICCU blog, you can see there are a number of helpful resources here: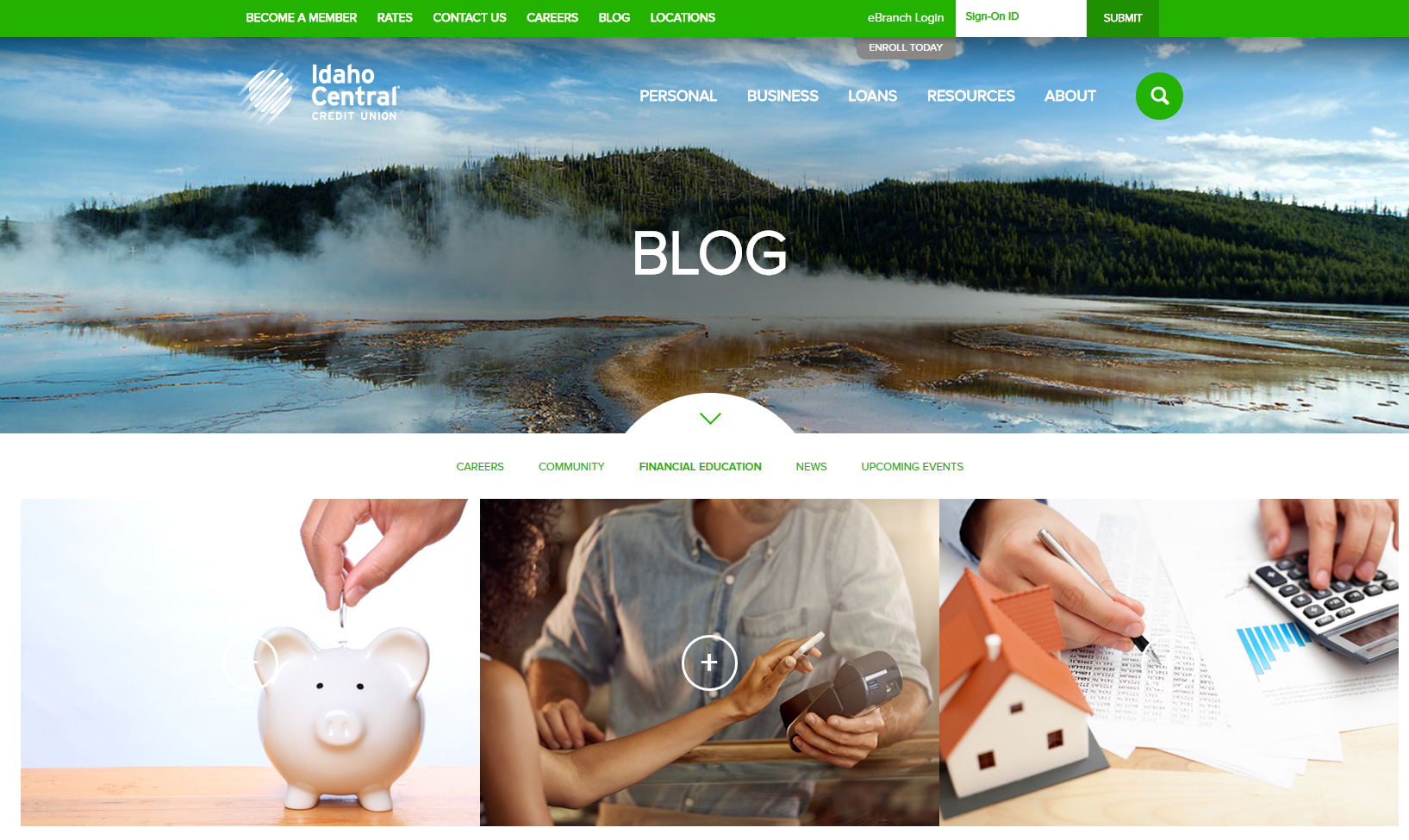 These resources could likely earn some valuable links for ICCU if they were promoted to the right websites. For instance, the middle article "What to Buy in May":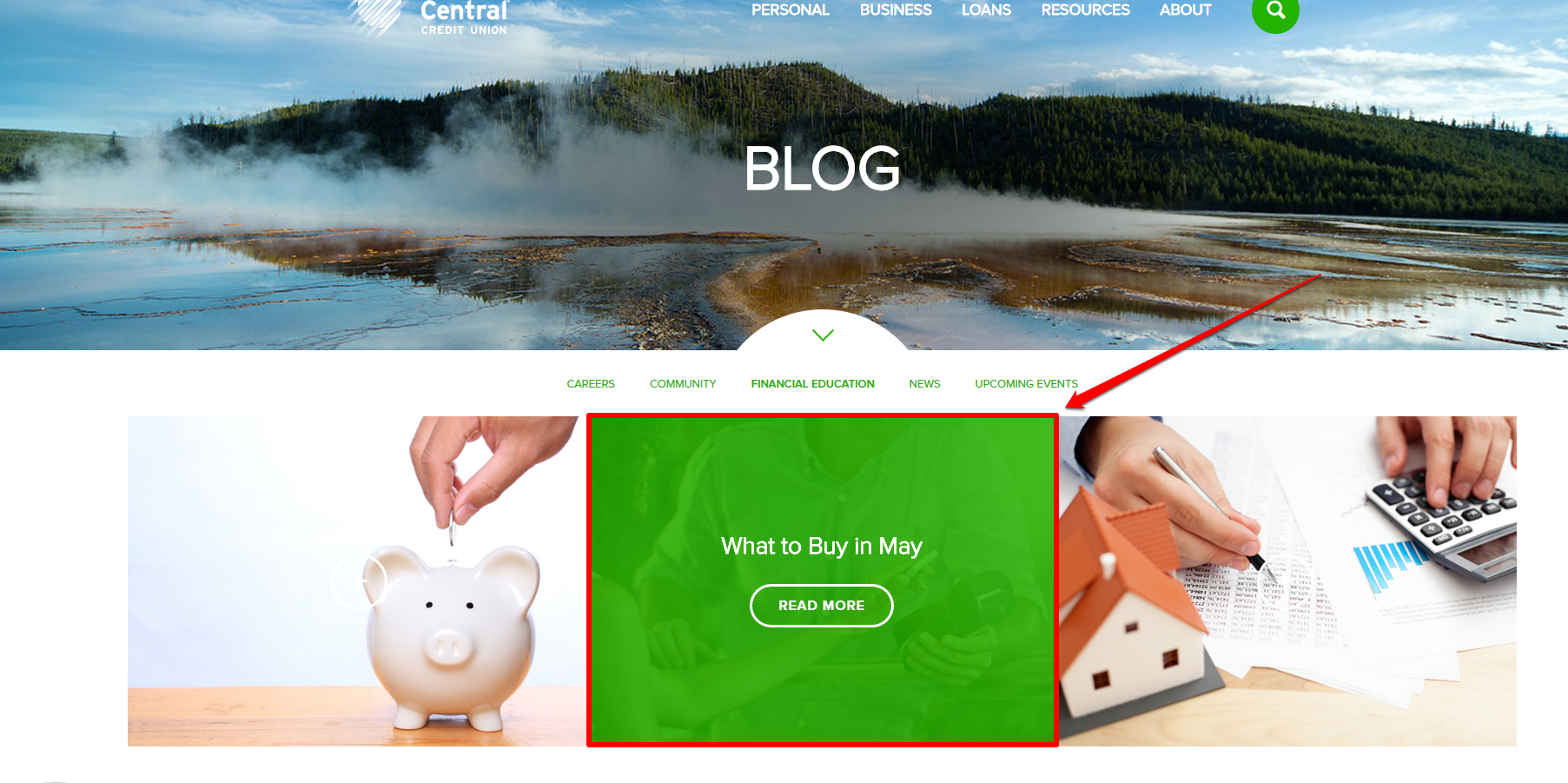 Would be a great resource for a blog on personal budgeting and the like, and would likely result in a worthwhile backlink for ICCU.
Because ICCU is already investing in creating compelling content for the purpose of content marketing, they can also leverage that content to acquire some links along the way.
Public Relations
Link building can also complement public relations initiatives nicely.
PR strategies are excellent for increasing brand exposure, spreading brand awareness, and cultivating a positive reputation for your business. PR activities also typically generate legitimate link prospects for your website.
However, PR campaigns have unique goals and metrics, and links are not usually on the radar which often leads to missed opportunities. Link acquisition can be made easier with PR tactics, and you should absolutely make links a consideration if you're engaged in a PR campaign.
Using the ICCU example again, we can see that ICCU has been implementing several PR strategies, including their recent sponsorship of Idaho Gives Day.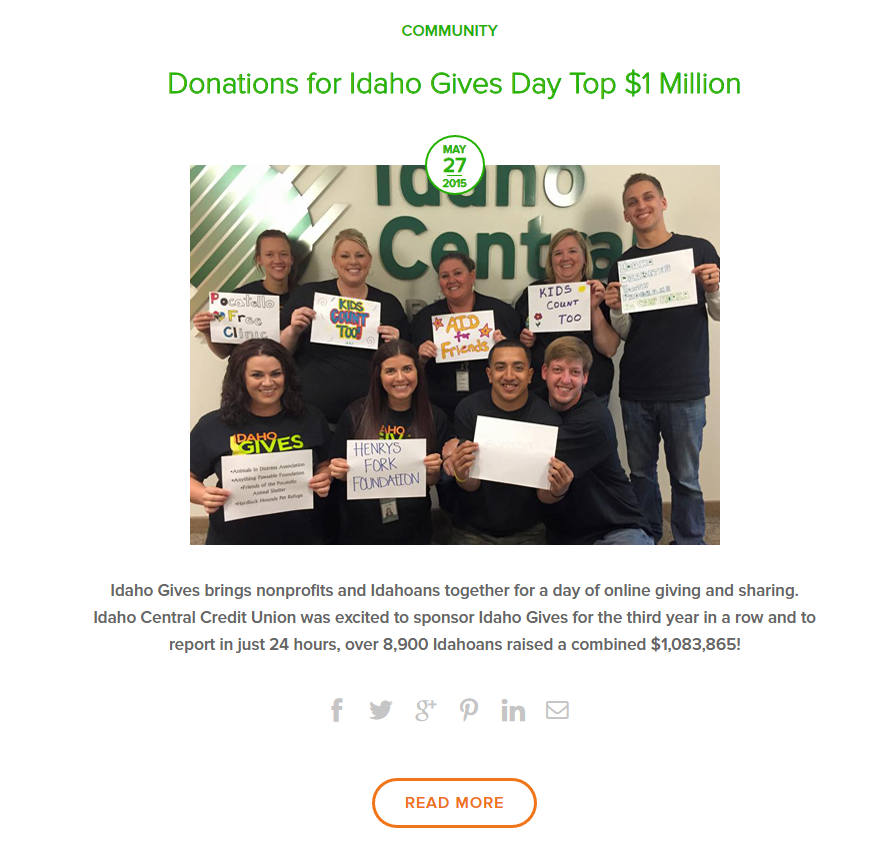 While this campaign likely garnered ICCU publicity and exposure (and of course was for a great cause), there were probably some missed golden link opportunities. For example, ICCU was mentioned here within coverage of the event, but not linked.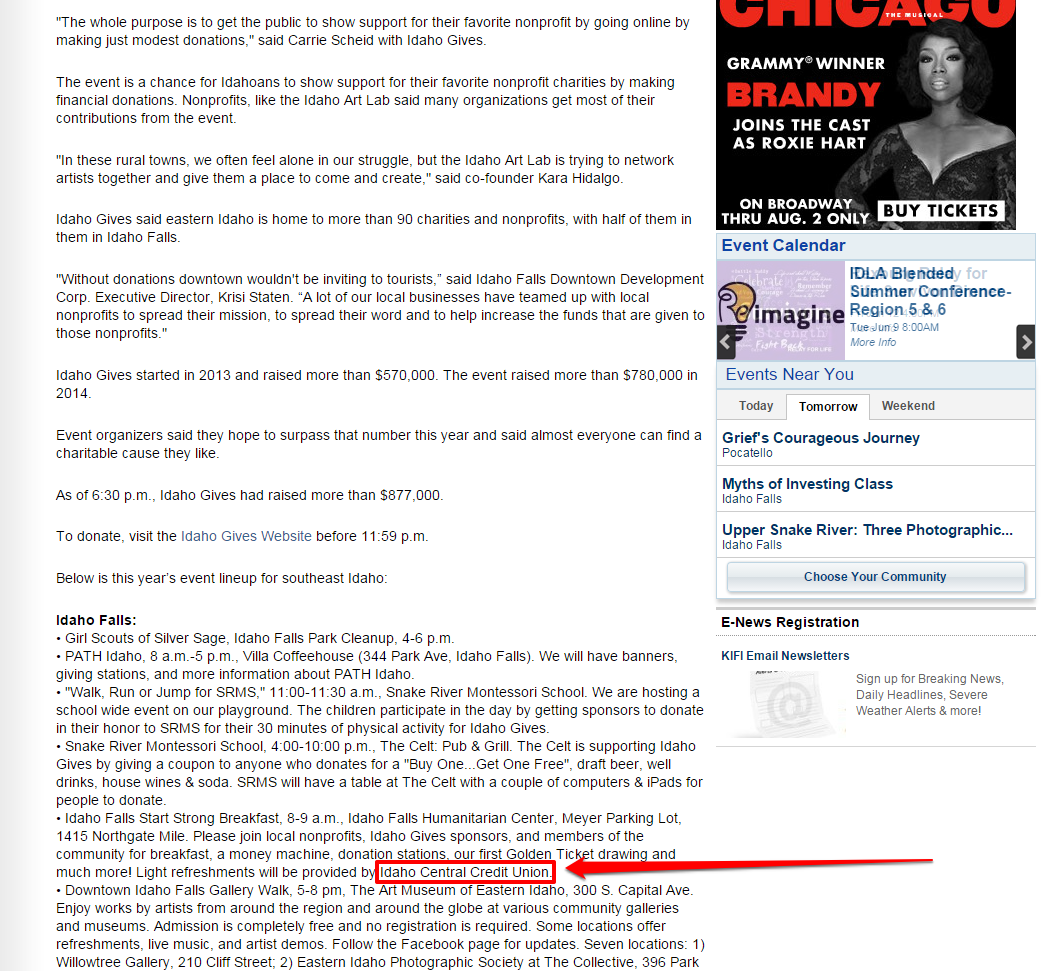 If ICCU were incorporating link acquisition into their PR strategy they could turn many of these unlinked mentions into valuable links.
Pay-Per-Click
Finally, links can even supplement pay-per-click campaigns.
PPC and link acquisition may seem like odd partners as they involve two different aspects of search, paid and organic. However, both strategies can supplement the other and should be part of a holistic approach to search marketing.
As a business, you likely have a wide variety of important keywords that you would like to show up in search for. Organic rankings can help fill any holes within your PPC campaign, and vice versa.
Again, we can use ICCU as an example of how link building and PPC can work together to help you dominate the search results.
Here are the results for "Idaho checking account" in the Boise locality, a query relevant to ICCU: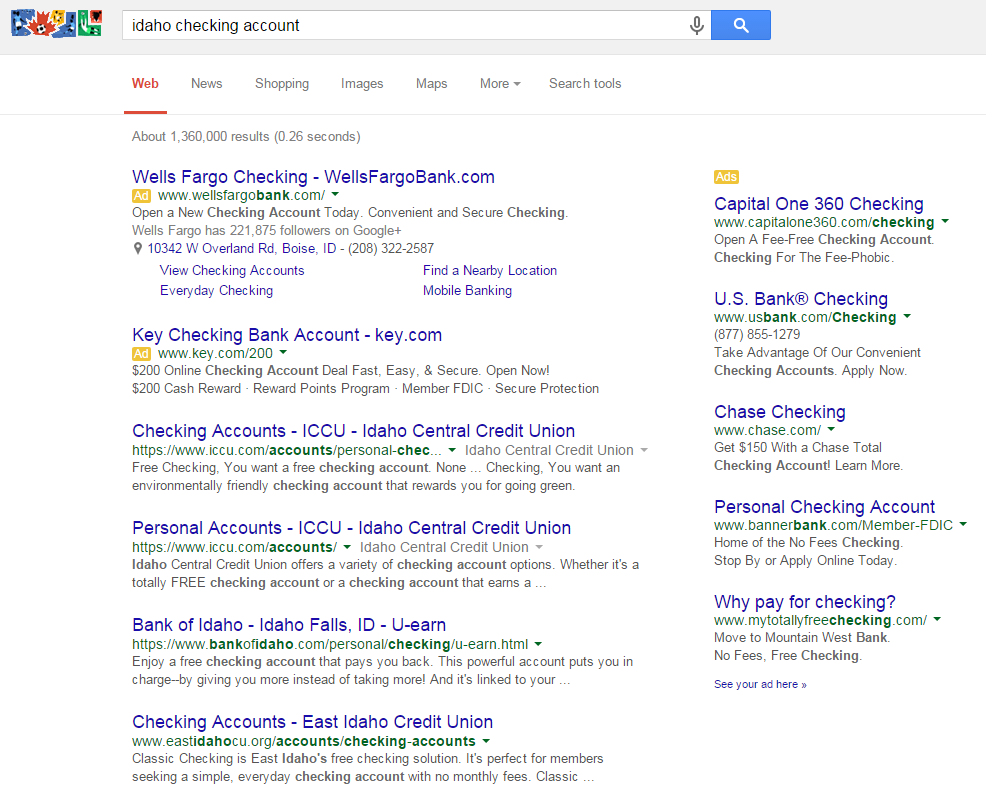 As you can see, ICCU did not win the PPC battle as Wells Fargo and Key Bank are likely investing a fair amount to show up in the paid section.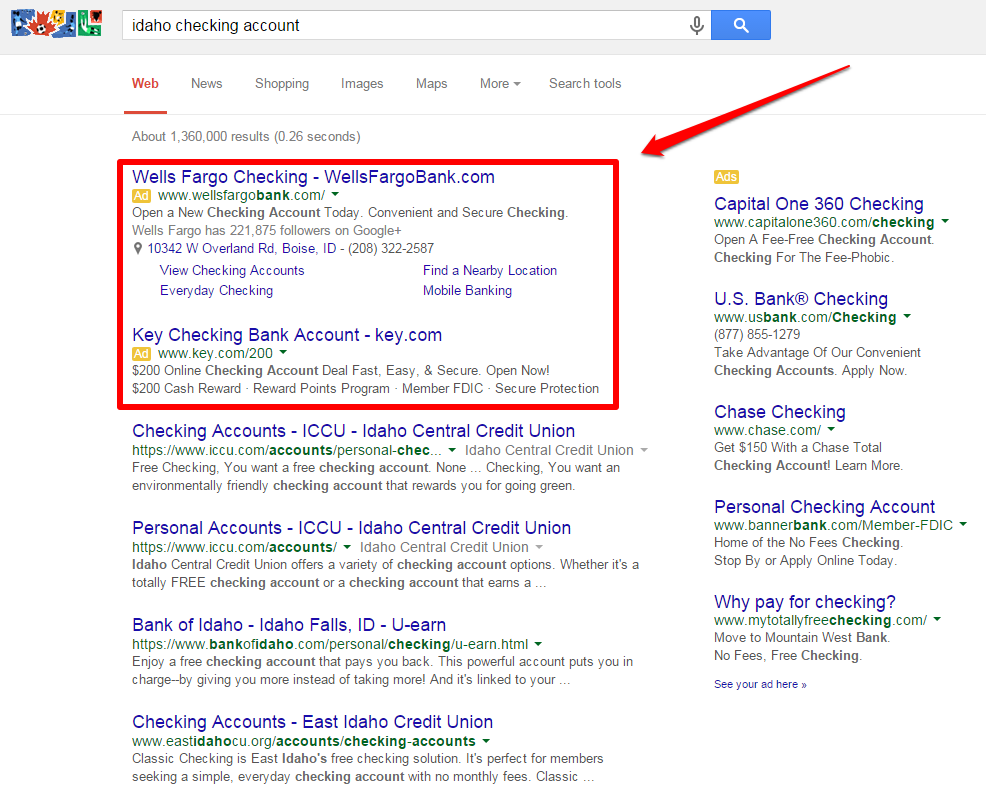 However, ICCU is able to offset this by ranking number one in the organic results.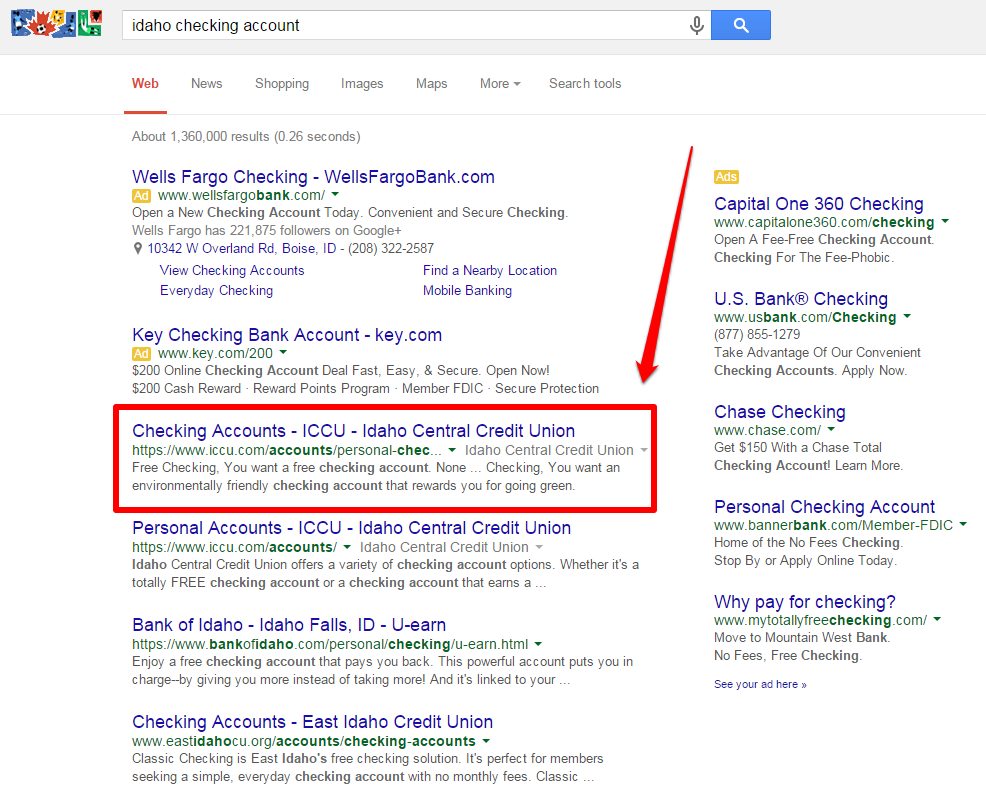 Because links are the primary ranking factor for organic results, it's likely ICCU has acquired a large number of links for this page to attain their number one ranking.
When a keyword is too expensive or competitive, you can utilize link building to supplement an existing PPC project to ensure there are no holes in your campaign. Vice versa, if an organic keyword proves too competitive, it might be worth considering allocating a bit of your PPC budget to plug the gap.
Recap
Links are central to the functionality of the web.
Along with being extremely valuable in regards to search, links also provide other benefits. Links need to be a consideration in your online marketing – even you don't have the time or budget to launch a full-fledged link building campaign.
Fortunately, links complement other digital marketing practices and you can infuse link acquisition into your existing campaigns, including content marketing, public relations, and pay-per-click advertising.