Google now judges your worthiness as an eCommerce site based on whether or not anyone cares about you and your product rather than whether your site is the most search-optimized. Why?
Google is Fighting a Robot Army and a Zombie Horde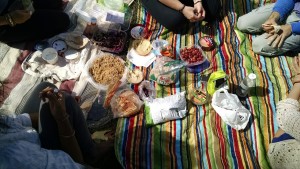 Some very rich people have spent a lot of money building an infinity of perfect robot sites and Google has had to develop a Turing test to separate the real mom and pop online businesses from the millions of affiliate marketing-, online reputation management-, directory-, and SEO-associated automated drone sites that have been developed masterfully over years and years in order to harvest millions and millions of dollars from contextual and display advertising — and Google has developed the perfect AI/human test: social signals.  At least for now, Google can tell the difference between a one-man-band and a community orchestra. When a town loves where they live, they support it with their Time, Talent, and Treasure.  Robot armies of perfectly-tuned and websites, even if they control a zombie horde of blog, Facebook, Twitter, Pinterest, and Google+ posts, don't quite propagate the same way that true community and customer interest does.
Social Media Engagement is Not Just Dropping Links
So, if you think all you need to do in order to appease Google is to search-optimize your website for mobile and drop links into your Google+ Business Page, your Facebook Page, your Corporate Pinterest Page, and your Validated Twitter Profile, think again: the Frankensteins behind the robot zombie armies are doing that too.
It's About the Community, Stupid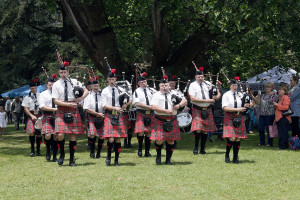 If you had a locally-owned shop in a small town, you would engage in that town. You would probably join the local Kiwanis and probably attend town meetings and sponsor 5Ks and little league teams. If you want the town to take to you, you had better really put down your roots and take your money and invest some of it back into the town, the village, the community, and the block.  Make sure the front walk is swept, make sure the homeless guy gets some water, make sure you listen to what people want and need and get it to them.  If you had a brick and mortar, you'd obviously feel the pressure of Amazon and Zappos and Ebay and even Etsy.  Either people choose you or you'll surely go out of business quick.
It's About the Online Community, Stupid
Just because you don't actually see people when you look at your performance on Google Analytics and Google Webmaster Tools, just hits, visitors, clicks, bounces, and dollar dollar bills, yo, doesn't mean that every single one of those visits represent the human soul of a beautiful Child of God. There are ways of starting and building an actual tribe; identifying, engaging, and befriending those natural allies, both customers and probabilities.
If your customers are only coming to you on price and not because they're absolutely wiggly about you, there's a pretty good chance that you're going to be exiled from your first result on Google, from your first page result.
And it's even worse if you've not a wiggly-bottomed online community and also have a history of doing things that Google has never liked but have been very effective in the fast: paying for backlinks, paying for links, or being a founding member of especially powerful private blog network.
Why Your Amazingly Successful Site's Down for the Count…
You have not been able to recover from your Google exile not matter what you've done. Social media's the answer, buddy. No, I don't mean having and religiously populating a Twitter, Google+, Pinterest, and Facebook page, I mean really becoming part of the social media conversation, the same conversation that was reported back in 1999 by the Cluetrain Manifesto lads. If your company were a brick and mortar storefront, you would get it; however, because you're exclusively online, you've forgotten that even your virtual storefront needs to prospect real-world fanboys and fangirls to become engaged and interested members of your realworld online world.
Have you spent thousands of dollars on search engine optimization (SEO) consultants and you're still not ranking on Google the way you'd like? Has your eCommerce site gone from earning you sixteen-million-US-dollars-per-annum to barely making you, personally, enough to remain in the top 1%? I've seen your sites and you're currently doing everything right. Your sites were mobile-native well before Mobilegeddon, every single image is not only web-optimized but sports the perfect image ALT tag, and your copy is neither too keyword dense not too light; neither too long nor too long. You site speed is even wicked fast and you have your content turned to eleven using the right hosting along with a real content distribution/delivery network (CDN). And, just to make sure you're kissing up to the right people, you're spending every cent you're making on your site while you're under performing on Google Adwords Ads and even ads on Microsoft BlNGADS. Nothing's helping.
You've Been a Bad Bad Boy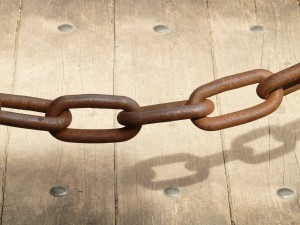 Since you've always made relatively so much money from your eCommerce sites over time, I feel like you're also spent a lot of money doing everything possible to maintain your dominance over your competitors, all the people who have been winning top results on Google by paying for backlinks, paying for links, or being a founding member of especially powerful private blog network are now screwed. Google's an angry God, a vengeful God. This is a scene out of Sodom and Gomorrah — every single backlink results in your site becoming a pillar of salt!
How the Hell Do I Recover From This?
The short answer is: hire, me, I'll help you out. The longer answer is: start building your real tribe. Start by going out there online and seeing who is interested in those things you're selling, be it products, services, lifestyles, politics, beliefs, or memes, and engage them. Invite them to become a part of your community. Offer to help them, offer to see if there is anything you can offer eachother.
Show up on their webinar, their podcast, their YouTube. Never turn anything down. Send then product, let them get to know you, pick up the phone, sponsor something, write some checks. Start a conversation, start a blog, post on LinkedIn and Medium and not just on your own site or own blog. Get all of your employees to help. Use a service like Audienti to show you how your SEO results are directly related to how real and human your relationship with the social web is.  Use tools like GroupHigh to discover and engage your influencers.
Making money online these days has way more to do with treating your eCommerce site as through you were running a storefront in a small town. Imagine what it would take to become a wealthy man with a storefront in a small town and if you're able to develop an analog online with email lists, blogging, content sharing, social media sharing and engagement, and even IRL (in real life), then you'll probably be able to convince Google, over time that you're (probably) not an AI, a robot, a zombie, or part of a global private blog network conspiracy cabal.
It's only then, after being completely contrite and bare naked before Google, when Google will eventually allow you back into the fold.
Good luck, Tiger — go git 'em!