As a marketer, I'm always looking for new ways to engage prospects and drive leads for my sales team. And in the past 6 months, I've added a new tactic to my program: webinars.
We had been talking about doing a webinar program at PGi for some time but just hadn't taken the necessary steps to get it moving. I understand why many companies might be hesitant about doing webinars. It's not easy.
For every webinar you produce, you have to find speakers, create content, promote the event, track registrants, and much more. You also have to manage the technology and deal with all the technical issues you may encounter during the webinar. That can be a pretty daunting task.
For many marketers, webinars may not be worth the trouble. After all, it's much easier to write blogs, eBooks, and whitepapers. You can create a high volume of written content quickly, and you don't have to deal with the technical challenges of a webinar.
But here's the problem. All that written content requires people to do something they really don't want to do: READ. Now, I'm an avid reader and writer, and it pains me to admit this, but most people don't like to read. For example, research shows that visitors to a website are 80% more likely to watch a video, while only 20% will read web copy. We've actually done A/B tests on PGi.com, and we've seen that web pages with videos convert 450% better than pages without video.
That's why webinars become interesting as a lead generation tactic. You're able to engage your prospects with your brand/products/message for an extended period of time. You're able to mash up audio, video, slides, and more to keep the attention of your audience. That's why you see webinars rated as one of the top lead-gen tactics today (source: Placester).
So, we developed a webinar program and launched our first webinar in November. The title was "Evolve or Die: Surviving the Changing Sales Landscape." It was high-level thought leadership designed to drive top-of-funnel awareness and interest in PGi. You can watch the on-demand video replay here.
The results from our first webinar were pretty good. Over 100 registrants and 50 people attended the webinar live. An additional 25 people watched the webinar on demand after the event. We generated 23 marketing qualified leads for our sales team to start working right away.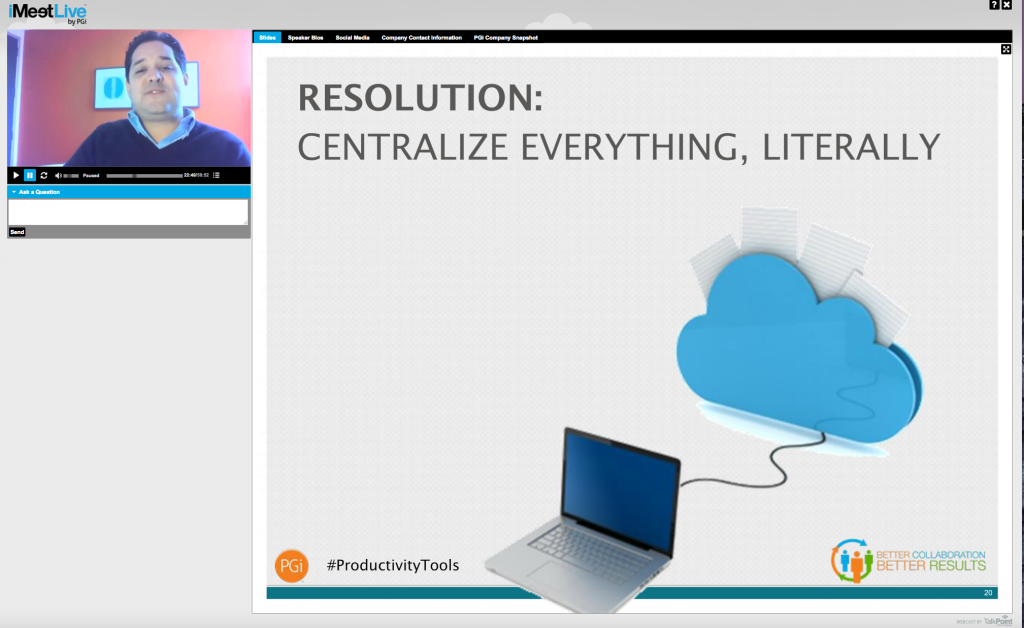 Based on that success, we kickstarted our program doing at least one webinar each month. Overall, we've been really impressed with the results. Unlike other forms of advertising, the number of people we reach with our webinars isn't that big, but the engagement we get is really impressive. With all of the distractions and media fragmentation, there's huge value in getting people to spend 45 minutes with your brand.
And we've seen, the attendees from our webinars convert to warm leads very quickly. Feedback from the sales team is that these prospects are high quality and very interested in learning more about PGi.
So, if you're thinking about starting a webinar program, here are some lessons we've learned along the way.
Promote early and often: If you build it, they will come—but only if you promote it. We use every possible channel we can—email campaigns, social, paid advertising, content syndication, website, etc. Also, make sure your sales people are sending invitations to their prospects and customers. The harder you work to promote your webinar, the more attendees you'll get
Use the webcam: Webinars can be a highly engaging experience for the viewer. But if you're just flipping through PowerPoint slides and adding a voiceover, you're missing an opportunity to truly connect with your audience. Think of it like giving a live presentation. You want the audience to focus on you and what you're saying. The slides should just support the key points you're making.
Ask the audience: Polling the audience is a great way to drive up your engagement and keep their attention. In our webinars, we use polls to break up the presentation. We share the live poll results with the audience, so they can see what other people on the webinar think.
Design slides specifically for a webinar: Don't overload your slides with text, because a webinar is often viewed on a small computer screen. Use large visuals and short headlines to drive your message home. If you're showing data, make sure to visualize it in a good-looking chart or graph. Remember, with presentation slides, less is more.
Follow up to drive additional viewers: Once the live webinar is over, you still have the opportunity to drive additional viewers to watch it on demand.   And as long as the presentation is current, it can live on in your content library and continue driving leads into the funnel.
So, if you're looking for a new way to drive leads, give webinars a try. I think you'll find that it's a great way engage your prospects and create more opportunity for your sales team.
Have webinars been successful in your lead-gen efforts? Any webinar tips to share that I missed? We'd love to hear from you in the comments section below.