The most common search marketing question I hear from our telecom clients is: How am I doing against my competition?
While it's easy in the world of PPC to focus on (and incessantly tweak) metrics such as CPC, CTR, and ad rank, another search vital sign to monitor is market visibility. It is essentially a simple calculation of your ads' reach and frequency, adjusted for where the ad ranks on a page. It's also a relative measure, so even if you are happy with your number, it can drop.
Have you looked at this stat lately?
We decided to dig into The Search Monitor's monitoring tool to see how the leading companies in two sub-categories of telecom–cable and mobile–were scoring.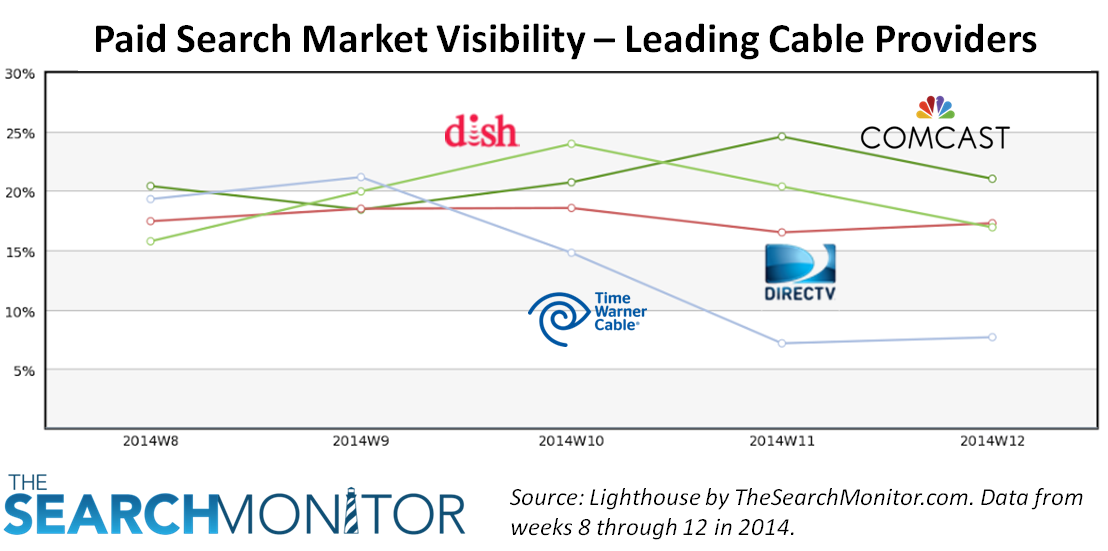 First, let's talk about market visibility for the four dominant cable providers in the last month or so. (Speaking of cable, were you also surprised that TimeWarner Cable is merging with Comcast? Wow.) OK, back to the chart. A few comments:
The chart revealed the closeness of the four companies' PPC market visibility towards the end of February, following the Olympics. Almost too close! If we only looked at that one week, we might suspect they are working together 🙂
In March, TimeWarner Cable's market visibility took a pronounced dip into the single digits where it remained through mid-March. Did TWC shift spend into another channel? Are they saving up ad spend for a big Spring promotion?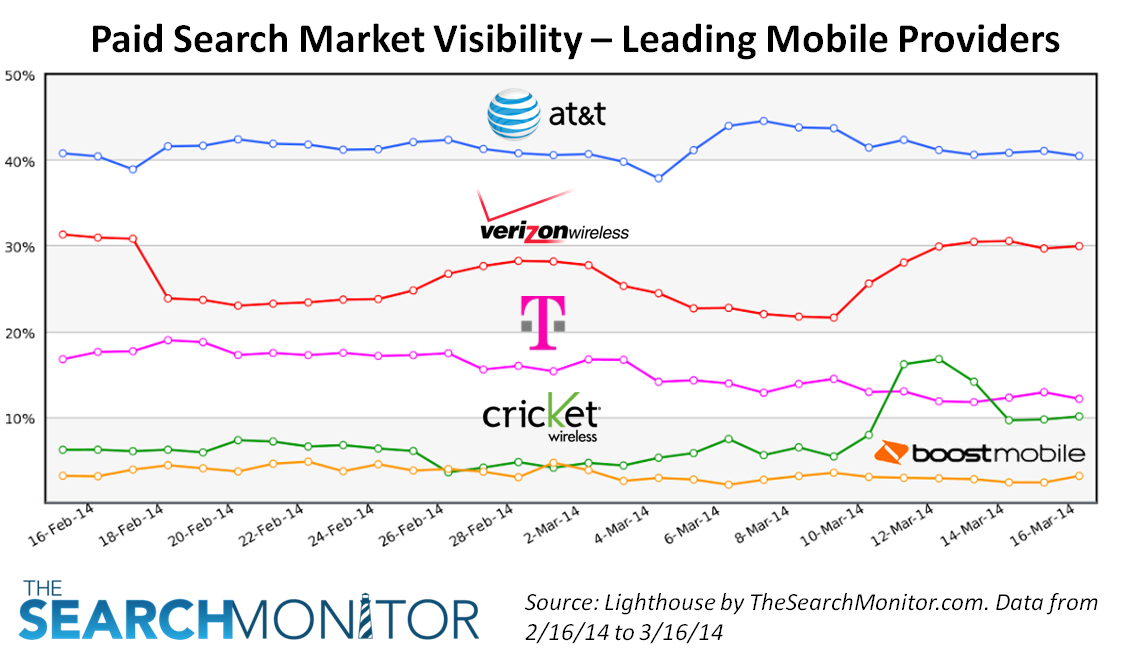 Next, let's look at the same market visibility stat, but this time for the five leading mobile phone companies. Anyone monitoring this important vertical or working for their advertising agencies can learn a bunch by simply pulling this chart each week. A few comments:
OK, a bit different than the more monopolistic world of cable! In the world of PPC from mid-February to mid-March, it's pretty clear that AT&T was dominating market visibility with a 40% score. And talk about consistency in defending that number.
Verizon Wireless scored about ten points behind AT&T–further than we would have guessed– and exhibited an interesting drop for most of the 30 days monitored. Sometimes we see an opposite move from another industry leader, signifying that one company's move directly impacted the other. But we don't see that here.
It was interesting to see how similar Cricket and Boost were for market visibility. That is, until Cricket appeared to change its strategy around March 12th and actually overtook T-Mobile's score for a few days. Way to go Cricket!
Looking at these two charts in the world of telecom underscores the need for search marketers to keep a very close eye on their market visibility score. It's more volatile than you'd imagine. Now, it's quite OK if the trends jump up and down a bit, as long as those moves are strategic and coordinated with other advertising promotions that might be relying on PPC  to support branding impressions or as a sales channel.
Contact me at The Search Monitor if we can provide similar data for the industries that you work in.  You'll be surprised what you find. Like what we found when we pitted Target vs. Walmart against each other before Black Friday 2013.