I recently got my hands on a copy of Joe Pulizzi's new book, Epic Content Marketing, and I can't say enough good things about it.  Truth is, as content marketing has exploded in the last couple of years, a jillion books on the subject have come along.  But this is the one to acquire for your marketing library, for two reasons.   First, it's your one-stop shop on the entire subject, from strategy and planning, to thorny execution matters like measuring the ROI.  Second, Joe himself stands at the epicenter of content marketing today, having founded the Content Marketing Institute, and speaking all over the world on this hot new marketing field.
But, as Joe points out early in the book, marketers have used content for centuries, in the form of custom publishing, like The Furrow, a print magazine for farmers published by John Deere since 1895.  Joe should know, having headed up custom publishing for Penton, which is where I first met him.  In fact, he commissioned me to write a piece of content for Penton, on B2B retention marketing techniques.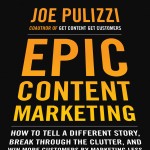 Since then, Joe has figured out how marketers can apply publishing techniques to marketing objectives, and, along with a couple of other leaders in the category, like Ann Handley and Joe Chernov, has articulated an entirely new type of marketing.  One that really works, especially in B2B.
Here are five of the great marketing ideas I picked up from Epic Content Marketing:
Content formats than I'd never thought of.  Joe discusses the usual B2B content marketing suspects (blogs, white papers, case studies, e-newsletters, articles and videos) in a meaty chapter on Content Types.  But here are several possibilities for sourcing content that were new to me: An e-learning curriculum, online news releases, executive roundtables, discussion forums and teleseminars.
The importance of telling a great story.  Most of us in B2B prepare content around business problems, focusing on technical information, how-to material, and industry trends.  But Joe reminded me about the importance of including the personal.  The "What's in It for Me" benefits couched in business stories, that smoothly draw in readers and keep their attention.
Visuals as a delivery mechanism for complex information.  People respond to graphics, movement, and especially images of other people.  So designing and condensing rich information into charts, images, infographics, videos, and other visual formats is a great plus for business buyers, as well as consumers.
Focus on securing subscriptions.  Joe makes a compelling case for promoting content delivered by subscription, like newsletters and social media follows.  Customers and prospects who agree to hear from you regularly are likely to be your most valuable audience.  To accomplish the subscription mission, you have to deliver valuable fresh content consistently, and promote the subscription vehicle with vigor.  Joe notes ruefully that, even though we all hate them, pop-up display ads have proven to be a powerful subscription recruitment device.
Why your website needs to be the platform where most of your content is housed.  Joe explains the importance of owning, versus renting, your content platform.  When your material lives on Twitter or LinkedIn, it is not under your full control.
I recommend Epic Content Marketing to everyone who sells to business buyers.