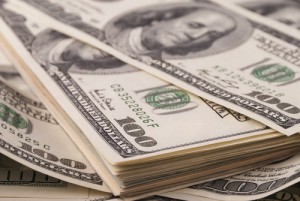 If you had $1,000 to spend as a marketing challenge, how would you spend it? We've all fantasized about what we would do if we won the lottery. But apply the same fantasy of coming into some money at a more realistic level. As a business owner, what would you do with $1,000 to spend on marketing? Where should you put that money to get the biggest bang for your thousand bucks?
First, Look at Priorities
If you don't make a plan for your marketing spend, the money will vanish into thin air. Your marketing needs aren't the same as those of other businesses, so first decide what your goals are.
If you have a trade show coming up, you'll want to spend some of your money on marketing collateral and promotional items for the event. If you want to beef up your online profile, you might do better to focus on contracting a service provider to help you do so.
Make a list of what you want to achieve in the next year, and then figure out the best areas in which to invest to reach your goals. As you're creating that list, be mindful of how you're going to measure your success, and which key performance indicators (KPIs) you should be tracking.
Next, Start with Free
It's exciting to have money to spend on marketing, but you don't always need to part with it to get the job done. Many tools, like social media management platform Hootsuite, have free versions ample enough to meet a small business' needs. Sign up for free trials and determine whether you really need to upgrade to the paid version of a given software program.
Ready to start spending? Focus on the tools and tactics that will maximize the return on your investment.
Press Releases
Investing in a monthly press release and distribution can help you achieve greater visibility in a few ways. One, it can help your Search Engine Optimization (SEO) efforts, and may improve your site's rank in popular search engines. Two, journalists searching for a given topic can find you through your press release, or—if you're looking to build a potentially valuable relationship—you can pitch them directly in the hope they'll be interested in writing about you.
               Cost: Varies, depending on whether you retain a PR pro or distribute yourself. Basic distribution via PRWeb starts at $99.
Blog Posts
If you've got someone on your team who can handle this, save your marketing dollars. But if you've put off blogging because you're not a great writer, spend some of your budget on hiring a freelance blogger or content marketing agency. You typically pay per post, or negotiate a flat rate each month. It may help draw traffic to your site, and can also potentially establish you as a thought leader.
               Cost: Varies depending on the blogger's level of experience. Posts can cost between $25 and $100, on average. (Just remember, going cheap won't help. You always get what you pay for.)
Email Marketing
While tools like MailChimp are free, if you need a more robust email marketing platform to help you create funnels for different customers, set up automated emails, and provide sophisticated reports, you'll have to pay for the privilege.
               Cost: AWeber starts at $19 per month for up to 500 subscribers, and MyEmma is $30 a month for up to 1,000 subscribers.
Online Advertising
If yours is a fiercely competitive industry, and you're finding it hard to get to the top of search results the organic way, set aside some funds for online ads. You can opt for pay-per-click ads on Google and other search engines, or pay for banner ads on niche sites. Either way, keep a close eye on your return to make sure the investment is netting the results you want.
               Cost: Depends on how much you're willing to pay for a click (here's a great resource to help you determine your potential investment). The lesser-trafficked sites will be more affordable, but you may not see the results you want unless you pay more for your ads to appear on more popular sites.
Local Networking Groups
It might not seem like a marketing expense, but networking absolutely is a necessity, especially if you're targeting your local market. Find both industry and general business groups to join, and invest the time necessary to get to know other members. You'll build relationships and gain access to new clients and potentially lucrative referrals.
               Cost: Annual dues vary, but may be anywhere from $50 to $300 a year.
Be judicious with that $1,000, and stretch it as far as possible. If you're spending it in the right places, the return on your investment will increase revenue and, in turn, increase your marketing budget!
Where would you spend $1,000 for marketing? Where would you NOT spend it?