Many of you have wondered whether Google+ makes sense for your marketing, but some of you have taken the plunge, whether it is because you believe that Google+ users are a valuable part of your audience, or because you think that its effect on search rankings is a game-changer. But this post is about using Google+ communities, which are fast becoming the a hotter version of Facebook groups.


While the world's least-understood social media network might not have the 1.1 billion members of Facebook, recent studies have found that around 26% of internet users have a presence on G+. It's now overtaken Twitter, LinkedIn, and Pinterest as the second-largest social media network.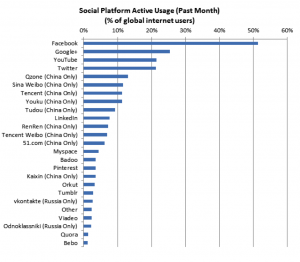 In many cases, the network's communities offer the same targeted discussion and vibrant mind-sharing available in LinkedIn groups. However, the network's functionalities for sharing and collaboration are more sensitive than any other social network, making it a prime place to build authority.
While the largest Google+ groups are relatively small, there's a number of existing communities to choose from. Ironically, the current largest is dedicated to demystyfing using Google+, with around 65,000 members at the time of writing. Social Media Marketers hovers around 7,000, and there are nearly 1,700 Content Strategists.  Due to the intimate nature of even the largest groups, it's clear that communities are a prime way to gain exposure on the network. Here are some best practices to gain exposure and promote your brand in groups.
1. Share Posts from Your Profile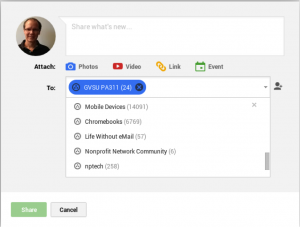 It's easy to share and post directly in the community from your own profile. When relevant, you can share content with multiple communities and people who have you in circles by making multiple selections, as shown at right.
Keep in mind that unless you choose to post directly to the group, the content will only appear in your feed and those of your followers.
2. Promote Your Events
One of the most remarkable Google+ community features are the options for different types of content which can be shared; you can pick between photos, video, links and events.  Not only do Google+ events offer the ability to set a date, time and theme, these details automatically sync with community members' Google calendars, as shown below.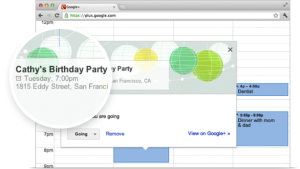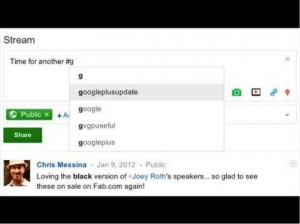 3. Tag Your Posts
Hashtags work on Google+, too! The network is even moving towards automatically generating hashtags for posts, based on the content of the link or event attached. In the meantime, you can create your own, or choose from a list of tags which autopopulate to increase the findability factor of your posts, as shown at the right.
4. Be a Positive Member of the Community
The principles of being a positive contributor to any online community apply to Google+. Be considerate, welcome other's ideas and participation, and don't just post your own content. Stephanie Sammons of Social Media Examiner recommends the following tactics:
Post Questions for the Sake of Discussion
Comment Often on Others' Posts
Ask for Feedback on Your Content
Perhaps most importantly, while Google+ posts can be pushed out through email, it doesn't mean you should use this tactic often. View the email functionality of the network as a very occasional tool for drawing attention to major announcements or particularly well-performing content, lest you be considered a spammer.
5. Use Hangouts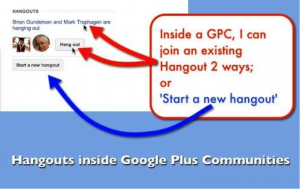 Maybe the most easily understood of all the Google+ features, Hangouts have a great deal in common with other video conferencing technologies, like GoToMeeting, and Skype, but the difference is that these features can be integrated with other technologies. While you're chatting with members of your community, you can share videos, search for documents, and present slideshows. This means that Google+ Hangouts are perfectly primed for collaboration. Collect inspiration for blog content, present your company's product, or simply deepen your relationship with members of the community. Perhaps best of all, you have the option to join an existing Hangout or start your own session at any given time.
While Google+ may struggle to gain traction among social media users due to a relatively hard-to-use interface, and low engagement, the power of its communities cannot be ignored. In an era of content abundance, groups are a real way to expand your following, make new connections, and promote your content and events.