Over the course of a couple days, my Klout score went from 65 to 67 because my mother died. Not because I had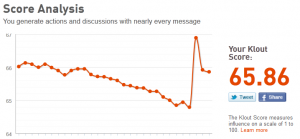 some sort of amazing Klout-gaming strategy but because I have been honestly and openly sharing my grief at the sudden loss of my mother on Google+, Twitter, but mostly on Facebook. And the reason why my Klout spiked is because so many of my 47,000 followers on Twitter and my 4,800 friends on Facebook came to my emotional aid at my time of need.

And that's because a good number of the people who I may oftentimes take for granted as being my follower count do, in fact, indeed, care about me, my life, and my happiness.
Not only that, but they're watching and reading, and they're paying attention — at least when it comes to things that are essential, important, and human.
And I am moved and amazed and feeling a little — a lot — unworthy of such an open and honest sharing of condolences. But, it is like a mirror, right? You received exactly what you put out there.
And even though I am "a bit of a douchebag" according to Klouchebag.com, I have never relegated social media's associated social networks to being simply a broadcasting channel. It has always been me, authentic as I can bear without invading others' privacy.
Yes, my authenticity does include shameless self-promotion and client retweets and marketing and too much "me, me, me, me!" but that's also very authentically me, too. Zits and all.
I guess that's why I am only a bit of a douche.
So, for what it's worth, while the vast majority of my social network empire on Facebook, Tumblr, my blogs, Posterous, Google+, and Twitter don't pay any attention to my emotional pain or grief, a surprising number do; while a majority of my hordes and legions of followers and friends are just connecting with me in order to talk talk talk talk talk, enough read and watch and "listen" that if there is such a thing as Purgatory that my mum might have needed to get sprung from through prayer, I can guarantee that the amazingly generous outpouring of condolences, prayers, and love for both my mother and me during this time has more than prayed her out and into her Heaven with her Saints, her Lord, and her Lady (so, thanks for that, y'all).
Anyway, I just want to bring some humanity to all of this — but I guess it is all along the same lines of my last post, Don't Roll Your Eyes at Social Media Influencers, which suggests that behind every "how to manipulate people into buying your stuff and loving you and following you" shortcut, there needs to be something honest and open — authentic — behind it.
It also means that when and if you join social media in a big way as a brand, as a company, as a person who is part of sales, promotion, marketing, or public relations, you need to figure out what your boundaries are and you need to break a bunch of them; you need to go as far as you can in terms of sharing of yourself — and not BS sharing like what you're having for lunch or FourSquare check-ins at your gym — and then go a little further.
In social media, you will always be rewarded my giving 'til it hurts.
In DC, they like to say "the only things that are in the middle of the road are yellow lines and dead aardvarks."  Being too politically neutral doesn't allow people to like you, though it prevents people from hating you, too.
Too many of us in social media — and especially in digital PR and marketing — play it safe, following the "people in polite society did not talk about politics, religion, sex, or money in public."
That leaves the weather and the holidays you've taken or plan to take and what you did over the weekend, maybe — and, of course, what you're having for lunch. And social media is littered with that.
And, you can also hide behind retweets, allowing yourself the safety of being bold and brave behind a the plausible deniability of the words you retweet not being your own.
So, though I protected my mother's privacy — her diagnosis, her sickness, her treatment, her hospital stay — to the end, when she passed, I made a decision to share my loss with everyone within the "sound of my voice" and influence.
I know, I am indeed an operator in many ways and have become maybe too careful and guarded since I do represent clients and so forth, I can tell that I have been trying to pass off easy, simple, superficial things as intimate. That I have been trying to push fast food as real nutrition.
I am grateful and amazed that I have not completely alienated all of my followers and friends in social media — that my voice has not been bozo-filtered, muted, unfollowed, blocked, and defriended by everyone.
But it also reminds me in a very powerful and mortal way that social media is not just strategy or tactic, that social media and all the social networks and platforms are the beautiful and meaningful culmination of men, women, and children — people — engaging with each other in often frivolous and superficial ways but sometimes in very human and powerful — loving — ways.
And I am desperately grateful to have experienced that first-hand.
Thank you.