The Wall Street Journal, in a recent article, Avon Is Late to Social Media's Party, says sales for cosmetic products have steadily moved online to sites like Sephora.com, Beauty.com and Drugstore.com. This has contributed to a -75% decline in operating profit for Avon and their 5.8 million sales representatives that sell door-to-door over the last decade.  Now, Warren Buffet and Coty are making a move to take over a company in crisis. I feel bad whenever 1-to-1 relationships are replaced by computers. Even though WSJ says Avon is late to "Social Media's Party," I don't believe Avon is. Social media is not about being early or late; it's there for any brand ready and willing to join.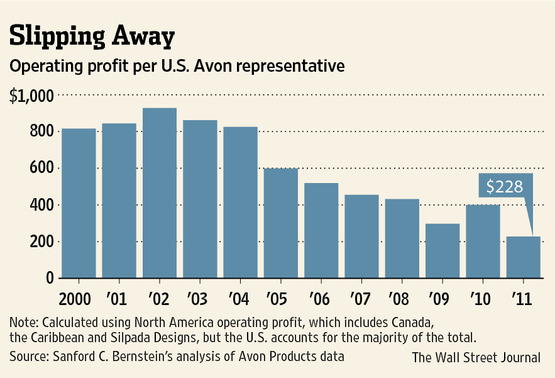 Here are 5 reasons it's not late for Avon  to Social Media's party.
1. BUSINESS STRATEGY: Of any brand, Avon has one of the most powerful social business strategies available. They have a brand community of 5.8 million reps. There are great examples of brands that put their community to work and turned their business around. Take for example, Harley Davidson. This may seem like an odd comparpson but stay with us.
On the brink of bankruptcy in the 1970's, Harley Davidson overhauled their business to realize their most valuable asset was their riders. In other words, the people were even more important than the product so Harley: 1) Spoke to the shared interest of their community before product benefits 2) brought advocates together and let them help build new relationships. Avon needs a business strategy, not a social media strategy, before they begin. Now, here's what they can do with it.
2. "AVON CALLING" ONLINE COMMUNITY: Avon's famous offline slogan could now be a live, online community where their sales reps offer daily advice about Avon products, deals, help customers with a cosmetic question, refer someone to the Avon rep in their area and talk about who they are as people (e.g. where they like to go on vacation). By the way, this is what Harley does daily at HDTalking.com, a customer created content community of close to 400,000 members.
3. "LIKE" US ON FACEBOOK (AND SEE WHAT HAPPENS): Every brand wants you to "Like" them and Avon has a pretty robust but commercial Facebook page that 660,000 people already like. They could use their sales reps more and show a human side. For example, Kraft Macaroni & Cheese, recently produced a video called "Likeapella" to celebrate the people who like them. Not to suggest that Avon do the same thing but to make the point that major brands need to use social media to make a more personal connection. Here's what Kraft did.
4. AVON CUSTOMER APPRECIATION DAYS (VIA TWITTER SEARCH): If Avon representative wanted to build 1-to-1 relationships in larger venues, they could go to high traffic locations in their area like a mall; then, if they use Twitter Search, they could find other women in the same mall and begin a conversation they very same way with the very same techniques they use when selling door-to-door.
5. KLOUT PERKS: With 5.8 million sales reps, they must have a very large number who have high Klout scores. Why not demonstrate to how powerful they already are in social media. Put this social influence to work and see how many rewards Avon reps can get through "Klout Perks." This would show how much social influence sales reps already have.
Maybe it would let Warren Buffet and Coty know just who they're dealing with.
Some great brands have turned to their community in good times and bad because it's their strongest asset. Do you think it's not too late for Avon and their 5.8 million sales rep to join the Social Media's party?