Have you said that to yourself? Or worse, to your boss? Now, I admit that it's harder to tie offline sales to your Web initiatives when you sell offline. But harder doesn't mean impossible. There's almost always something you can do to measure the impact of your digital marketing on your offline sales. I know, because I work with clients every day to do just that.

Admit it. Have you ever been a little bit envious of those born-on-the-Web companies like Amazon and eBay that have it so easy? I interviewed a former CTO of Amazon for Do It Wrong Quickly who told me, "We could change a font at 9 am, and by noon, we'd know if it was a good idea or not."
It's a lot harder if you sell offline.
But it's not impossible. The trick is to bridge the gap between online customer activity and offline activity. If you can do that, you suddenly can measure the revenue impact of everything that you do online, just like Amazon and eBay.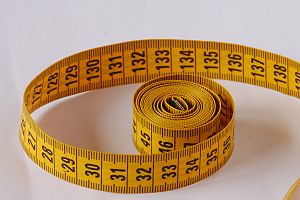 Image via Wikipedia
How you do that depends on what kind of business you are in, but usually it takes just a little thinking about how to re-engineer your customer experience to let the metrics flow. The best thing you can do is to directly link each offline transaction to online activity. Some companies allow coupons to be printed out from their Web site that have numbers that uniquely identify the Web visitor. Some use phone numbers that appear only on their Web site. When you take these steps, you can directly tie Web activity to the offline sales process that you track through your other systems, such as CRM.
Some companies have gone even further. IBM pioneered the "Call Me Now" button, so that when customers pressed the button from a Web page, IBM called them instead of letting the customer call in. Why did IBM do this? Because if the customer calls in, you don't know where they have been, but the customer who presses the button can be linked between everything done on the Web and everything done with the call center. In addition, the call center knows where they were on the Web site and can have a product specialist talk to them from the get go, rather than have them run the call center gauntlet until they finally reach someone who know about the product they are interested in.
Car companies have made the best of an imposible situation. Car manufacturers have Web sites, but if customers troop off to the dealers to buy a car after being persuaded on the Web site, how would the car companies know?
So they allowed customers to design their own car on the Web. They picked the GPS, the leather seats, the red exterior and then they had some choices. They could ask for a quote from several local dealers–thereby giving up their e-mail address and being linked forever with whatever they do offline. Or they could print out the specs and bring them to a dealer, who dutifully checks off the box that they printed Web specs when taking the customer's information. Either way, all eventual sales are linked to online behavior.
Now maybe all of this is too much for you. Perhaps you just can't figure out a way to identify the Web activity for every offline sale, transaction by transaction. Then find some other way. Add a question to your warranty card about whether they used your Web site. Or conduct a study that tells you that on average, 70% of your customes come from the Web and here is their average purchase size.
Whatever way you do it, you'll find that being able to calculate the monetary value of what you do on the Web is a game-changer. Once you know what your We site is worth, you'll never under-invest in it again. And you'll never waste your time on investments that don't move the revenue needle.