I had a chance today to speak to the Internet Strategy Forum Summit West (Conference 2.0, Pro). In addition to being the conference with the longest name, it has a great roster of speakers—and me. You can look at my slides on Internet Marketing by the Numbers, but you really missed a great event. Charlene Li kicked off the morning, galvanizing the audience with excerpts from Groundswell, which I will be reviewing soon. We also heard from Disney, Intel, and Nike, but Geoff Ramsey of eMarketer stole the show with a romp through Web statistics, including a puncturing look at Second Life.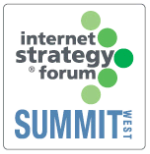 Geoff had the audience in stitches when he showed the Second Life statistics of millions of registrants vs. the number that had actually logged on in the last month. He showed that Second Life had fewer monthly residents than the city of Portland, where the conference was being held. He carefully noted that Second Life monthly residents are lower than Portland monthly residents. "At least I assume that Portland residents are here each month," he cracked.
His advice to marketers on Second Life parallels mine. Experiment if you must, but do it cheaply. Don't spend tens of thousands on something speculative. I've been a big fan of private virtual worlds, which provide the same glitz of Second Life with an easy to calculate return on investment.
Do it wrong quickly, yes, but also do it cheaply. The pace of iteration in Internet marketing depends on each decision being not just fast, but almost free. Otherwise you start taking huge risks, just like with traditional marketing, and being wrong is not an option.