He looked like a busy businessman, nattily dressed in an expensive suit, carrying just a briefcase onto the short early morning flight from Charlotte to Raleigh. He was obviously going to a business meeting, probably with a customer. He was likely not thrilled to sit down next to someone with a young baby in his arms, expecting her crying might interrupt his work. My friend laughed a little as he remembered what enused as he held onto his little girl.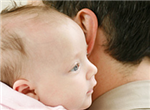 The flight was a rocky one—the turbulence made it feel a lot longer than the half hour flight time—and it was apparently too much for that little girl. As her father held her, she picked up her head, looked that businessman in the eye and proceeded to lose her breakfast all over him.
Oh my. My friend was, of course, apologetic, but that was probably cold comfort to that poor businessman, whose day has now taken quite a turn. He is in no shape to meet with the customer, has no change of clothes, and no time to fix the situation. One way or another, the customer will see what happened to him, which is embarrassing.
How would you handle that situation?
It's uncomfortable to even think about. You could call the customer and hope to delay the meeting to later in the day while you buy a new suit. You could dump your suit jacket and try to clean off your shirt and pants as best you can to get there on time, but you'll have to explain that this isn't your idea of a new cologne. Or quickly head to a dry cleaner or a laundromat to do your best to at least get the stink out. (Febreze anyone?) Maybe you can think of something else.
How many of you would cancel the meeting, because the whole situation is so uncomfortable?
We need to think about these questions because Internet marketing is forcing us to do things that might seem uncomfortable. We need to try things that we are not sure of. We need to be willing to be wrong on a regular basis. We must even live with the idea that occasionally we'll be very embarrassed over a particular dumb idea.
None of this is comfortable.
But so long as we keep reaching for our own comfort, and avoiding the experimentation we need to do, we'll never learn how to succeed at this newfangled Internet marketing. We'll never get past the embarrassment of not knowing what to do, or of doing it wrong. We'll never get to the benefits that come from getting feedback from our customers on what's working and what's not.
So, I know that you might want to cancel the meeting, but it's probably the worst idea of all of them right? If you'd like to cancel the Internet, I understand how you feel, but it's probably the worst idea of them all.
Staying out of Internet marketing just because it's uncomfortable just cedes a slew of customers to your competitors. The marketers who can handle discomfort know that sometimes the customer will see them covered with the Internet equivalent of baby barf. But it's better than not being seen at all.