I got an e-mail today from someone who wants to take a small business to the next level by focusing on search marketing. And I had an ah-ha moment. There's some organic search marketing advice that I have just been taking for granted to such a degree that I may not have said it. You really need words. Lotsa words.
You know, Bill Hunt and I wrote a 600-page book on search marketing and I am not sure we emphasized this point enough. This was all brought to mind when someone at High Country Furniture asked me for advice on their organic search marketing.

 I took a quick look at the site, and was struck by how few words there are on the pages. It's a nicely-designed site, but it is mostly pictures of furniture. This makes sense, really, because who would buy a piece of furniture without seeing it? But selling on the Web is different than selling in a store, because there's no salesperson. There's no one to tell the story.
Like most businesses, High Country certainly has a story to tell. With just a quick look at their site, I can tell that they have more than one location, so they seem to be a successful small business. They sell on the Web and ship all over the US. So they aren't your typical brick-and-mortar furniture store. It makes sense for them to be interested in organic search so that they expand their business on the Web.
So what kinds of stories can you tell about furniture? Well you can start by answering some basic questions:
Why should I buy from you?
What's different about what you sell?
Why should I buy furniture online at all?
But High Country could offer much more than that. That information is the normal high-level abstract stuff that you need to close sales but doesn't really attract any searchers. What advice should I give Highland to attract searchers? Here is what I would tell them.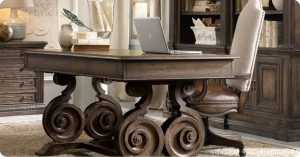 You need to tell the story of each piece of furniture, not just show a picture from a catalog. The first thing you might want to do is to improve the catalog by placing each product on a separate page with lots of words and facts to explain what the picture does not tell. What colors does it come in? What's it made out of? What are the dimensions? You need this stuff to sell it, but some of these words also become search words. Some people are looking for a mahogany coffee table. and Google won't know it's mahogany from a picture.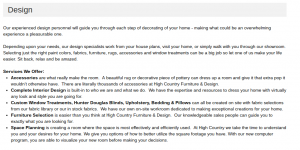 But there's an even bigger opportunity for information than just doing your catalog right. Why not give design advice? Instead of having one page that says we give design advice, you should explain how to think about a room and how to know things go together. (I assume some of the chairs go with some of the tables even though they are on separate pages.) Tell a story of what someone was looking for and how they found it from you. This kind of content is customer oriented—think about the problem the customer is trying to solve and how you helped them solve it. Tell as many of these stories as you can think of—they'll all use different words and capture different searchers with different problems.
If you really think through what your customers are struggling with, you can meet them at their point of need. Most people are intimidated in the area of home decoration—if you can sell to those people you have a captive market. And the Web is exactly the place where intimidated people hang out because no one sees how clueless they are. If you're willing to help people over the phone with this kind of advice, you might attract a whole new clientele.
You don't have to do everything all at once. Start small. Pick some area of information that you think you can explain and do it. You'll figure out how to subtly show off the furniture and design services as you explain it. (Perhaps talk about a particular customer and the design advice you provided and show examples of the furniture bought from you.)
Find your best story tellers. Get your best writer to interview the salespeople at your company who know the best stories and write them down. Interview happy customers. When you do, think about using words that ordinary people would use to describe the problem and the solution and use those words in the titles. If possible, hire a writer even if it's part time. Maybe find a freelance writer (a reporter from the local paper?) that you pay to write a dozen customer stories. Go out to their homes and take pictures of how nice the furniture is now and how happy they are. Real people with real stories.
It may be that you can't easily change the design of your site. If that's the case, then maybe you could start telling stories in a blog. You can use Blogger or Typepad for free. Eventually the search engines (and your customers) will find those words and start showing up.
Now there's lots of other great search advice in our book and in other places about how to pick the right keywords and optimize your content and get links (and on and on). I even offer advice for all the free search marketing tactics you can try when you are on a shoestring budget.
But it all starts with words. You must start by having some text that tells a story. If you do, you'll at least have some keywords even if they aren't the perfect ones. You'll at least have some content to optimize. And you'll find that these problem-oriented, customer-oriented stories will really capture the interest of people who might link to your site.
It's great to hear from people because it reminds me that for all the complicated advice, sometimes the simple stuff needs to be said out loud. So here it is: If you want to succeed at organic search, you need some words.