Business owners often dismiss the importance of online reviews. However, according to Podium's survey from last year, online reviews are actually important to brand reputation and consumers' decision-making. Sixty percent of consumers read reviews once a week, and out of that population, more than 90% use the reviews to inform their consumer decisions making. Essentially, online reviews should be a key element of any marketing strategy.
Not only can online reviews help with your Google ranking, but they can also affect the way your business shows up in the search results. Thus, these reviews (regardless if they're negative or positive), in addition to the way you respond to them, are crucial for your business's success.
One important platform to pay attention to is Google reviews. If you're not sure how to use Google reviews, or if you're unsure of how they impact your company's image, you can familiarize yourself by simply searching for your business on Google. Here, you can search for local business reviews and compare yours to those of your competitors. You can reply to your customers' reviews, and create a template that will help you maintain timely responses in the future.
The first step is to verify your business by registering it with Google. Visit https://www.business.google.com to do so.
All done? Great! Now you have access to your business' Google page where you can see reviews and reply to them. Additionally, this page will display your company's rating on Google, as well as all your reviews. Below is an example, from GoPromotional.co.uk, of what it will look like.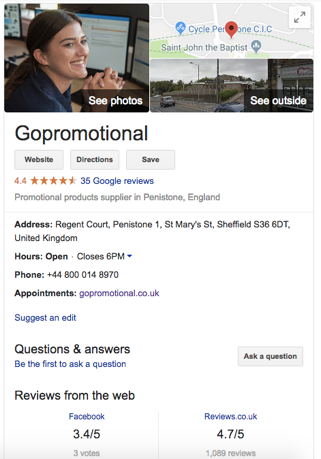 Replying to Google Reviews
Not responding to negative reviews just because the reviewer was rude is not a good way to lead a successful business. You should aim to respond to each and every review you see in a polite and professional manner. This will help everyone who searches for your business to see that you, as well as your brand, are credible, honest and reliable. What's more, well-written responses will boost your reputation!
Need a bit more help? Here are a few guidelines:
Don't delay. Aim to respond to online reviews as soon as possible. This shows you're listening, you care and leaves a good impression on the reviewers. You will show them that you value their opinion. Also, Google loves fast replies..
Start by thanking the reviewer for the time they've taken to write the review and make sure to leave feedback.
Don't just say "thank you." Make sure you answer their questions and concerns. Also, if the review is positive, try to restate what the reviewer said in their comment. That way, you will not only acknowledge what they've said, but you will also reinforce all the good things they've said about your company.
Continue the dialogue by asking the reviewer if you can help them with something else. Furthermore, ask for recommendations, as that will also show that you value their opinion. This way, you'll connect with your customers, which means that they may use your services again.
Before you post your reply, make sure that there are no mistakes in it. If you don't catch an error, someone else will. If possible, have someone read over the post before you submit it. Basically, make sure that the tone is professional and that there are no grammar, punctuation or spelling mistakes. Remember to keep it short and sweet. Nobody likes to read long, essay-like comments. Essentially, keep it brief, yet full of positive energy and exactly to the point.
Consider using online reviews and replies for marketing purposes. They are a great way of promoting your business, as you can always add some keywords to them. In addition, you can share information about new products with the customers. But, remember – overselling your brand is not a good idea. Use this advice only when applicable.
What to do when you get a negative review
If you get negative feedback, don't necessarily think of it is a bad thing. Of course, no one likes to read negative comments about their brand, but it is an opportunity to boost your reputation. It is important that you reply to the comment in a courteous manner and try to maintain an air of professionalism. Who knows? You might even get a follow-up comment that will show that you have successfully dealt with the negative review. As for how to respond to these comments, just use the guidelines above. Apologize even if the customer is incorrect. Being aggressive, bitter and angry in these comments will not do anything for your reputation – and everyone will see it. You might even lose customers.
If you find that you are too upset to reply, take a step back and distance yourself from it. You have to be professional when replying, so consider the comment and see if the complaint is justified. Once you cool down, draft your reply. However, if the review doesn't comply with Google's guidelines, consider reporting the comment.
Once you finish your draft and publish it, think about the reviewer's feedback and if there are any changes or improvements you can implement. If your reply is professional and you've successfully dealt with a dissatisfied customer, others might still use your services, despite the comment. However, if there is a lot of negative feedback, you need to use that feedback to improve your products and services.