Search engine optimization in 2015 was just one of the topics in a fast-moving SEMrush Twitter chat that I was invited to recently on how to integrate SEO into the marketing mix. This was my first time as the guest on the SEMrush chat and it was a dizzying experience–hundreds of participants and thousands of tweets.
I hustled to try to keep up with the pace, at one point missing one of the questions (which I figured out when other people started answering it), and I did my best to answer other participants and retweet their best answers, but I felt like I was playing tennis with three balls coming over the net at the same time. (There are times that I really do feel old with this technology, and this was one of them.)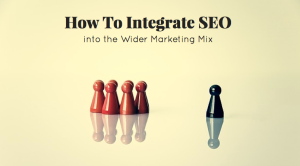 But even though I was out of breath when I finished, I was also exhilarated. There was a boatload of information flying through the Twittersphere in that short hour and it was great to see so many participants.
I think that the part I liked the best was on co-optimizing paid and organic search landing pages. My opinion, shared with my co-author Bill Hunt in our latest edition of Search Engine Marketing, Inc., is that large companies that have siloed their search landing pages have a new way to juice some more value–by combining the paid and organic landing pages into a single page that tries to be the best of both.
Organic landing pages typically are high in quality but not always focused on conversion–that helps them rank and attract traffic, which is what SEO folks are paid to do. Paid search landing pages are always focused on conversion, but they might have been neglected in the quality department. By combining the pages into one, you have a chance to get the best of both worlds–organic pages that convert and paid pages that have a high Quality Score (and probably lower per-click costs).
But this was the most controversial opinion that I expressed in the chat, with some taking issue on whether this was needed and how possible it is. I agree that it is harder to do than to have separate teams managing separate landing pages, but if you've been optimizing separate pages for a long time, this might be your way to a new level. Yes, it is more difficult, but it is usually true that improving your marketing is harder than leaving it on autopilot.
Anyway, it was a great experience for me, and thanks to the folks at SEMrush and all the participants.