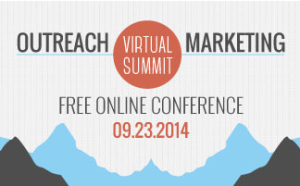 The Outreach Marketing Virtual Summit 2014, sponsored by GroupHigh, happens today. It's free, it's web-based, virtual, and lasts all day. If you attend, you'll have the opportunity to watch 40 industry thought leaders present on all things influencer, social media and content marketing — including me and cool stuff from my agency Gerris. I'll be presenting from 12:15PM until 12:45PM EDT. My presentation is titled Blogger Outreach Case Study: How I Activated Hundreds of Bloggers for Mizuno Running.
While the presentation is pre-recorded (to help with cat herding 40 presenters), all of us presenters will be tracking, monitoring, and responding on Twitter with the aid of the summit's hashtag, #OutreachMarketing, so please register for free and then either pop in for just my presentation or hang out for the entire day with Danny Ashton, Jay Baer, Bill Brennan, Julia Campbell, Robert Clarke, Ian Cleary, Melanie Cohn, Tyler Collins, Megan Davey, Phil Davis, Gini Dietrich, Trent Dyrsmid, Barry Feldman, Carrie Finley-Bajak, Leigh George, Maddie Grant, Chuck Hester, Stacy Jones, Chris Keevill, Kristen Mathews, Stephanie McCratic, Ryan McGonagill, Mark Organ, Tracey Parsons, Lisa Arledge Powell, David Pride, Rebekah Radice, Jess Ryan, Neal Schaffer, Dechay Watts, Heather Whaling, Warren Whitlock, Stephen Wynkoop, and me.
My presentation is described thus, "A step-by-step walk through of a campaign that Sally Falkow and I did for Mizuno Running. See what we did to engage and activate hundreds of bloggers, from the top 100 running bloggers down the every single blogger who self-identified with being a Runner."
Mizuno USA hired me to join their AOR, McKinney, to help them leverage the power of online influencers and social media to help introduce an online runner's community they were launching called the Mezamashii Project. The Japanese word "mezamashii" means "brilliant" and Mizuno wanted to let runners know what it was like to have a brilliant run. Since Mizununo might not be top-of-mind when American runners think of buying shoes, the job that I was given was to make sure the Mezamashii Project was launched in a big way.
My portion of the campaign was online influencer marketing, including reaching out to 100 A-list runners, a task I shared with fellow outreach marketing rock star, Sally Falkow of Meritus Media, as well as "everyone else," which I call long tail blogger outreach. What this Cluetrainian idea means is that the combined influence and impact of having hundreds of bloggers and online influencers speak on behalf of Mizuno is more important that having a handful of A-list "celebrity" bloggers on board.
Mizuno was smart: they not only engaged an agency like McKinney, reached out to the top celebrity and A-list bloggers, but also were willing to reach out to and engage any and all bloggers who in any way self-described themselves as runners. What is a runner? Well, according to Runner's World magazine, a runner is anyone who straps on a pair of shoes and ambles down the block.
Every Blog is Sacred
This includes both Ultramarathoners, crazy folks who run upwards of 3,100 miles, to someone like me, a 44-year old college rower who is now trying to reduce from 285 lbs+ by hitting the road, to someone who has never ever gotten off of the couch but now is attempting to go from Couch to 5k by using Jeff Galloway's Run Walk Run method of training to run.  I wanted them all! Funny thing was: most of the running celebrities were already sponsored by Nike, New Balance, Saucony, and Brooks.
It Takes a Village
We used a combination of good old Google search and a team of researchers I work with to collect the hundred top-runners as well as the thousands of regular bloggers who blogged about any number of topics: 5ks, 10ks, CrossFit, weight loss, running, jogging, half-marathons, marathons, triathlons, sprinting, personal training, going to the gym, and loads of other running- and training-related pastimes.
While Sally and I reached out to those hundred top bloggers by hand, reaching them via email as well as through their social channels, including email forms and even via private message on Daily Mile, it was a different thing entirely across the long tail.
With the long tail, "all the other blogs," we dig deep. If anyone online at the time was writing about their fledgling (or decades-long) running career, we would collect their blogs into a list and then get my research team to explore their blogs for contact info, namely first name and email address.  No matter how much of a perfect match the blogger may well be, if that blogger didn't offer up his or her email address somewhere on the site, we would pass.
Hugs Not Horns
Folks don't like to receive pitches, even if they're also being offered a free pair of Mizuno running shoes to try out, enjoy, and review and a free pair to give away, if they haven't shared their info. I used to dig deep into historical whois domain name registration data via Domaintools' powerful suite of tools that allow me to go back into the early days of domain name ownership to sort out the contact info of domain name owners before they took their domains into private registration.
I must say that bloggers who don't want pitch emails really don't want them and it's always better to leave well enough alone. When it comes to unwanted email, people are nutters so people who have tried to obfuscate their contact info behind email forms, double-blinds, links to Linkedin, or even private registration, don't deserve a cool pair of Mizuno running shoes anyway — and there are thousands more (on any topic you can imagine) who are not so anti-social.
"Be Kind for everyone you meet is fighting a hard battle" –Philo of Alexandria
To support the campaign of this type, I always develop and design a social media news release (SMNR) — a microsite — to make it as easy as possible for all the bloggers I pitch. The Mizuno SMNR was hosted on a server under both www.mizunorunningnews.com and www.mezamashiinews.com, domains we also used for our pitch emails. This site is pretty much a "steal me" site where everything that's there is really to be copied, pasted, and blockquoted into a blog post. In addition, all the copy and content is pre-linked, all the videos and images have embed codes, and everything is as easy as pie to copy over and post — as easy as I know how to make it. In addition, I shoe-horned a "Share This" button bar into the top of the SMNR so that anyone who comes and who isn't prepared, ready, or interested in writing a whole post on their blog can just share it easily to their Twitter, Facebook, Pinterest, Google+, or Tumblr account.
Three Times' a Charm
Three outreaches. I don't want to go into too much more exposition because this entire post was supposed to feature a video and PowerPoint webinar that flows into the entire process, but here's a few things you need to know: I email those thousands of people who I have collected as runners using a mailer with mail merge.
I use a special process and service because most ISPs and mailing list companies don't allow you to email people you don't already know. Secondly, we develop a very simple email message that pretty much just introduced the Mezamashii project to them, offered them the gift of advance membership in the community, a pair of free Mizuno running shoes in order to give them their own personal Mezamashii "brilliant" run, and a pair to give away to their readers, and also asked them if they'd be so kind as to let us know if and when they tweeted, posted, pinned, etc.
Of course, there was the prominent link to the Mizuno Running News SMNR microsite — then off they went.
Seven-days later, I sent another email to follow up. Usually, we send a third and final email, a week after that, but not in this case.  While blasting thousands of bloggers via email seems like cheating compared to the one-by-one method folks tend to use these days, it's not easier because the conversion, seduction, marriage, second date event happens in the Inbox, where anyone handing the email replies really needs to make sure they handle every single blogger with kid gloves and with all the respect and admiration in the world.
The Proof's in the Pudding
Over the course of the eight-week campaign, Sally and I were able to earn 133 blog posts, 1,350 tweets, and 40 other earned social media mentions, totaling 1,523 in just 8 weeks from contract signed until the blogosphere, social media sphere, Googlesphere, and Interwebs were flooded by a series of powerful and thoughtful first-hand Mizuno "mezamashii" brilliant run experiences!
The Three Little Pigs
Long tail blogger outreach is a powerful secret weapon with three tremendous and unique consequences:
The initial goal is to secure earned media mentions on hundreds of blogs, online media outlets, Twitter, Facebook, and G+.
A secondary effect of a long-tail blogger outreach is being able to touch thousands of people in both your current market space as well as aspirational markets for current and future growth.
The tertiary effect is true white hat SEO, powerfully effective even post-Panda and Penguin Google algorithms.
Watch the Webinar for Much More
I am sure you can explore much more about this process by attending today's Outreach Marketing Virtual Summit 2014 and by watching the embedded YouTube and SlideShare sneak peeks of my presentation from the event.
Feel free to email me at chris@gerr.is or call me at +1 202-351-1235
Learn more about Chris Abraham at Gerris digital.
Outreach Marketing Virtual Summit
Outreach Marketing Virtual Summit