My contribution to Biznology this month is an excerpt from Page One Power's eBook Link Building: From Beginning to Launch. The book aims to provide link builders, both experienced and new, with all the tools and information necessary to execute a link building campaign – from beginning to launch.
Below is a taste of what the book is all about and a preview of what to expect when the book launches on February 24.
The next step in launching a link building campaign is setting project size, scope, and expectations. These should be customized based upon your website; no two link building campaigns will be exactly the same.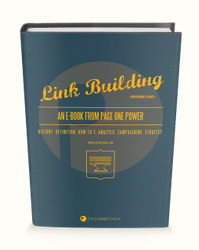 Here's what you'll need to know before the launch of every campaign, which will help you set project expectations:
1. The unique value
The unique value proposition is imperative to building links. If you can't quickly summarize the reason a website is worth linking to, then the odds are that you'll be unable to convince webmasters to link to your site.
2. The niche
Understanding and agreeing upon which links are relevant to your niche is important. Furthermore, you'll need to understand the niche you'll be working in— what are high-value link targets, what are the difficulties of the niche, etc.
3. Prior/current relationships
Relationships are a natural conduit for link building and can be formed through online interaction. Respecting your website's current relationships (not to mention further developing them) will only increase your link building efficiency.
4. The target audience
This is usually fairly obvious, and should be established well before any campaign begins. However, make sure you know all potential customers, beyond the obvious – again, it will be beneficial to your link building efforts, and ensure you're working both efficiently and effectively.
5. The landing pages
You'll want to ensure you're building natural, future proof links. Part of this is ensuring you have diverse pages to build links to throughout the campaign. Also, having a healthy group of pages to point links at should increase your link building opportunities.
6. The keywords
Diversity in link building is extremely important. With the iteration of Penguin you'll want to make sure you're utilizing various keyword strategies such as exact match, partial match, branding, naked URLs, and long tail anchor text. This will be discussed further in Chapter Five: Analyzing Links and Backlink Profiles. Setting expectations and having an agreed upon list of acceptable keywords is fundamental to a successful campaign.
7. The backlink profile
To work effectively you'll need to understand the site's link history – capturing new domains is typically preferable to building links on a site already linking to yours. Furthermore, if one link building tactic or keyword has been overused, you'll need to steer clear of that for fear of over-optimization.
This will again be covered in more depth in Chapter Five, where you'll learn how to do an in-depth link and backlink profile analysis.
8. The SEO history of any other involved parties
Beyond just the website you'll be working on, you will need to understand the history of anyone you'll be working with, and their link building mindset. This will guide much of the project, from communication to setting expectations to establishing project goals. This includes teammates, managers and site owners (if that's not all you).
9. Expectations
Understanding and communicating the expectations of the project is by far the number one priority when starting a fresh campaign. If expectations are improperly set, you could have the most successful link building campaign of your life but still have an unhappy site owner.
10. Goals across the board – including long and short term
Similar to setting expectations, communicating clear and agreed-upon goals—both long and short—will help determine the course of the project, the success of your work, and the overall satisfaction levels. It is important to make the time for a long discussion oriented around project goals.
For a bigger list of potential questions, check out Jon Cooper's Questions & Checklist for New SEO Clients: A Collaborations.
These questions will help you determine the feasibility, scope, and overall course of the project; understanding these will allow you to work efficiently, effectively, and maintain project satisfaction.
The eBook Link Building: From Beginning to Launch will be available on February 24, but go here now to sign up for our newsletter and we'll send you a copy on launch day.