Biznology JumpStart Workshops
Did you know digital is the only media channel to show growth in this decade? Over the last several years digital has become the most popular form of media, surpassing television. Even though more companies are doing and driving business in digital, 77% say their digital marketing could work better. Is your company one of them?
We offer world-class experts who customize workshops to train your personnel to solve your own digital marketing problems. Don't sit in a classroom doing case studies on some company you never heard of when our experts can come to your location and teach you the concepts you need using your own company as the case study.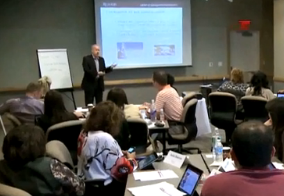 What do you want to improve?
Return on investment
Sales
Leads
Conversion rate
Advertising spending
Brand image
Something else
You set the goals for the class because this workshop is designed to teach your team to improve your business results.
No need to tune out when the instructor starts talking about B2B when your company is B2C. And you don't need to check your e-mail when they start talking about shopping carts when you will never have one. Or when a fellow student from another company starts droning on with a question or comment that has nothing to do with what you care about. In these workshops, everything is relevant to you because everything is about you and your company.
Our instructors have decades of experience in digital marketing, teaching, and consulting, so they will tailor the training to what you need based on what they know.
We're putting together the initial course descriptions now, based on the most-requested topics from our staff of instructors. Keep checking back as new courses are added:
Agile Marketing (coming soon)
Online Market Research (coming soon)
Let us know if there is a digital marketing topic you would like offered and we will find the experts to do it.