I am sure most of these show me as superstitious, but I always makes sure I do these few things before hitting the Publish button in Biznology's WordPress compose window. I do them anyway because I assume that while it may not help, it can't hurt. In my magic realism world, Google spiders, bots, and algos appreciate every little bit of extra data, description, and definition they can.
First, I overrule the URL slug that is automatically-generated by WordPress–things-optimize-google-search-engine-discoverability–and replace it literally, things-i-do-to-optimize-for-google-search-engine-discoverability:

I make sure I re-label each and every image descriptively. A photograph labeled "dsc_0010.jpg" becomes "tall-handsome-40-something-blogger-chris-abraham.jpg"–or something like that. Then I also make sure the WordPress-provided image name, caption, description, and alternative/ALT-image tags are filled out. In this case, I don't always include captions if the surrounding text is contextually-relevant:

I make sure there's at least one named link to my home blog embedded into the body of the post. Whenever possible, I include a linked title to another article that allows visitors to learn more about this topic using an article or two I have written before, such as 9 things you can do today to improve your Google search results; then I make sure I always customize the Snippet Preview that the mandatory Yoast SEO offers each of its users: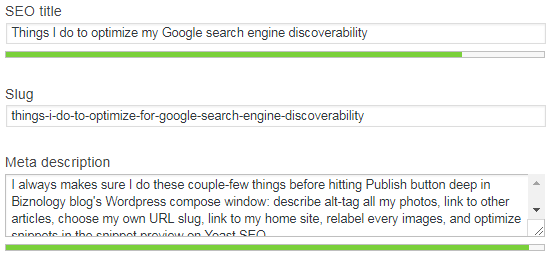 Then I carefully choose the most appropriate categories and tags with the help of sovrn tags–and then that's it!  After that, I hit Publish and then rejoice as the lovely editors over at Biznology come in and make my articles not only better but probably even more optimized for both Google Search and Bing Search (Bing lives!).
God bless Rosa, Eileen, and Madeline!
Feel free to own the yacht but hire a crew if you're not yet seaworthy. If you get my drift and want to adopt the yachting lifestyle yourself but either don't have the mad sailing skills yourself, don't yet posses a world-class crew, and don't know yet where to go, then you should give me a call or reach out me by email — so I can help you pilot your vessel now, in the tranquil blue-green shallows of the Caribbean, as well as in the roughest seas and into — as well as out of — the storm.
If you'd like to chat more, call me at +1 (202) 869-3210 Ext 0001  email me, or feel free to self-schedule a 15-minute call, a 30-minute call, or a 60-minute call with me.