On-site Social Business Training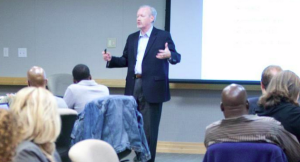 While most social and digital media programs are initiated and led by Marketing, enforcement is typically the domain of HR, and to a lesser extent IT.  Many initiatives fail because they are implemented in silos and lack the collaboration and organizational buy-in necessary for them to succeed.
As social media has expanded to social business and transformed many organizational processes, it has become critical that a holistic approach be taken.Collaboration initiatives, branding and content strategies increasingly depend not only on effective social media strategies, but on transformation and change management strategies as well.
This interactive two-day planning workshop will provide the roadmap, tools and guidance necessary for participants to successfully implement digital, social media  and social business initiatives in their organizations.  It will address marketing, content management, branding and employee engagement and provide case studies of successful initiatives.
This workshop is co-led by Mike Moran, publisher of Biznology.com and noted author and keynote speaker on analytics, digital strategy and social media and Dr. Andrea Goldberg, an organizational psychologist, former IBM Vice President of Market Intelligence, blogger, thought leader, and speaker on social business and organizational transformation.  Together Mike and Andrea will provide the end-to-end perspective that is often lacking from social and digital implementations.
What Social Business Means to You
Social business allows new communication tools to help self-organize your business around projects rather than top-down hierarchies and static organizational roles. Most importantly, it allows your genuine culture to show through to the outside world, becoming your true external brand image.
If you feel your business is missing out on the social media revolution, here's how your business benefits from an On-Site Social Business Biznology JumpStart Workshop:
Includes tips for marketing, IT, and HR teams to transform your business.
Tailored to your organization's needs — built around your organization's specific challenges to help your team put their learning to work immediately.
Hands-on, on-site training using your company's own situation — "on-the-job" training to improve your team's knowledge and your business results.
There are plenty of social business courses, but this one is customized to you — to your very own organization.
If you've tried to help your organization learn social business in the past, and always came out feeling "smarter" but unable to apply what you learned to your own situation, this is the course for you. Click here to talk to a Biznology JumpStart Workshop associate about customizing a program for your team.
What You'll Learn
We cover everything you'd expect out of a top-flight social business training program, but we walk you through your own problems and issues so you can immediately apply what you to know to your own situation. We don't give you a litany of techno-speak. Instead, we frame everything in business terms that you can understand and apply right away.
You will learn how to:
Assess your organizational culture and brand readiness to become a social business
Determine your objectives and your end game
Develop appropriate social and digital strategies
Align your organization with a plan to implement those objectives and strategies
Determine the right contribution to your plan for each role in your organization
Agree on a common playbook of organizational engagement tactics
Agree on how to evaluate and measure success
Additionally, once the class is over, you'll be able to access our instructors for 60 days to address follow-up questions and issues.
Want to learn more? Click here to talk with a Biznology JumpStart Workshops associate about the right program for your business.
The Bottom Line
When you walk out of a Biznology JumpStart Workshop, you'll be armed with a plan for exactly what to do next in your situation—not just a list of notes you toss in your bottom desk drawer. What's more, you'll have access to our instructors for 60 days after your class for follow-up questions and issues.
Don't wait for more time to go by while your digital PR program falls behind your competitors. If you ever wanted to know what the secret is behind successful digital communication pros, this is your chance.
Click here to learn more about how to put a Biznology JumpStart Workshop to work for your business today.
Your Instructors