On-site Social Business Training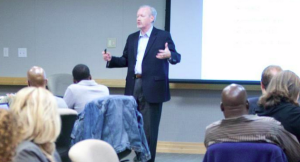 While most social and digital media programs are initiated and led by Marketing, enforcement is typically the domain of HR, and to a lesser extent IT.  Many initiatives fail because they are implemented in silos and lack the collaboration and organizational buy-in necessary for them to succeed.
As social media has expanded to social business and transformed many organizational processes, it has become critical that a holistic approach be taken.Collaboration initiatives, branding and content strategies increasingly depend not only on effective social media strategies, but on transformation and change management strategies as well.
This interactive two-day planning workshop will provide the roadmap, tools and guidance necessary for participants to successfully implement digital, social media  and social business initiatives in their organizations.  It will address marketing, content management, branding and employee engagement and provide case studies of successful initiatives.
This workshop is co-led by Mike Moran, publisher of Biznology.com and noted author and keynote speaker on analytics, digital strategy and social media and Dr. Andrea Goldberg, an organizational psychologist, former IBM Vice President of Market Intelligence, blogger, thought leader, and speaker on social business and organizational transformation.  Together Mike and Andrea will provide the end-to-end perspective that is often lacking from social and digital implementations.