On-site Digital Public Relations Training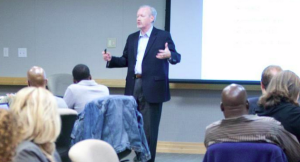 Public relations has always been important to promote and protect your company. But never has public relations been more important than in the digital age. PR professionals with digital skills are more sought after than ever because they understand digital marketing better than the marketers. Communications pros know how to get people to voluntarily spend time with their message, which digital marketers must learn to do.
But how do you build support for digital PR in a world that has consistently undervalued public relations for years? It's all about having the skills that bring new results–results you can measure.
Biznology's On-Site B2B Digital Marketing JumpStart Workshop can help you close that digital skills gap for your team. Our team addresses your situation, and meets in your workplace, to bring your team up to speed on digital PR best practices, and to put their learning to work right away. Click here to schedule a Biznology JumpStart Workshop for your company today.
Why Digital PR Is Different
In some ways, PR pros have an easier adjustment to digital communication than marketers. Communications people already know how to craft a story–one that readers will voluntarily spend time with, which is the key to digital success.
There are a few large changes that digital brings to public relations, however:
Permanence. There are no more one-day stories–Google remembers everything forever for your customers and your clients to find.
Speed. The old crisis response no longer works–you must respond now.
Transparency. The old PR-speak smacks of corporate spin–your audience wants to hear from the experts in your organization, not the communication team.
Scale. It's not enough to get a placement in the New York Times anymore–how do you get mentioned in the hot blogs that really influence your audience?
Measurement. We're way beyond counting clips–learn how to really unlock the business value of your work.
If your digital communications plan hasn't gotten the attention that it deserves, here's how your business benefits from an On-Site Digital Public Relations Biznology JumpStart Workshop:
Includes both the latest digital PR techniques as well as years of communications best practices.
Tailored to your organization's needs — built around your organization's specific challenges to help your team put their learning to work immediately.
Hands-on, on-site training using your company's own situation — "on-the-job" training to improve your team's knowledge and your business results.
There are plenty of digital marketing courses, but this one is specific to B2B and customized to you — to your very own organization.
If you've tried to learn digital marketing in the past, and always came out feeling "smarter" but unable to apply what you learned to your own situation, this is the course for you. Click here to talk to a Biznology JumpStart Workshop associate about customizing a program for your team.
What You'll Learn
We cover everything you'd expect out of a top-flight digital PR training program, but we walk you through your own problems and issues so you can immediately apply what you to know to your own situation. We don't give you a litany of techno-speak. Instead, we frame everything in business terms that you can understand and apply right away.
You will learn how to:
Set measurable goals based on your strategy
Develop your online audience profiles with today's leading approaches
Choose the topics your audience cares about
Spread your digital message through search and social media
Identify the influencers on your key subjects
Use social media to broadcast content and engage with your influencers
Develop your digital PR plan across online and offline elements
Sell that plan within your organization
Additionally, once the class is over, you'll be able to access our instructors for 60 days to address follow-up questions and issues.
Want to learn more? Click here to talk with a Biznology JumpStart Workshops associate about the right program for your business.
The Bottom Line
When you walk out of a Biznology JumpStart Workshop, you'll be armed with a plan for exactly what to do next in your situation—not just a list of notes you toss in your bottom desk drawer. What's more, you'll have access to our instructors for 60 days after your class for follow-up questions and issues.
Don't wait for more time to go by while your digital PR program falls behind your competitors. If you ever wanted to know what the secret is behind successful digital communication pros, this is your chance.
Click here to learn more about how to put a Biznology JumpStart Workshop to work for your business today.