On-site B2B Digital Marketing Training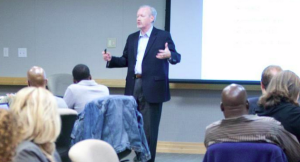 Many companies struggle with digital marketing. But B2B companies have a bigger problem. B2B companies tend to have little history with marketing of any kind. Rightly or wrongly, the power in B2B companies has traditionally been around sales, product, services, and finance–not marketing.
What can you do if your B2B company does not know how to build support for a digital marketing program?
Biznology's On-Site B2B Digital Marketing JumpStart Workshop can help you close that gap for your team. Our team addresses your situation, and meets in your workplace, to bring your team up to speed on digital marketing best practices, and to put their learning to work right away. Click here to schedule a Biznology JumpStart Workshop for your company today.
Why B2B Marketing Is Different
B2B companies have had limited success with marketing, for a number of reasons. For example, before digital marketing came along, most marketing tactics simply didn't work for B2B. As a result, there was a lot of flailing around, and a lot of tactics, but not enough strategy.
If you find team's expertise skewing toward the "print a brochure for the trade show booth," you can use our help.  If your team actually knows what to do but has not been able to persuade the rest of the organization as to the value of digital marketing, we can also help.
The advent of digital marketing makes marketing not just possible for B2B companies, but imperative. Is your team playing catch-up against your competitors?
If your B2B digital marketing plan hasn't gotten the attention that it deserves, here's how your business benefits from an On-Site Brand Marketing Biznology JumpStart Workshop:
Includes both the latest B2B digital marketing techniques as well as years of brand marketing best practices.
Tailored to your organization's needs — built around your organization's specific challenges to help your team put their learning to work immediately.
Hands-on, on-site training using your company's own situation — "on-the-job" training to improve your team's knowledge and your business results.
There are plenty of digital marketing courses, but this one is specific to B2B andcustomized to you — to your very own organization.
If you've tried to learn digital marketing in the past, and always came out feeling "smarter" but unable to apply what you learned to your own situation, this is the course for you. Click here to talk to a Biznology JumpStart Workshop associate about customizing a program for your team.
What You'll Learn
We cover everything you'd expect out of a top-flight B2B digital marketing training program, but we walk you through your own problems and issues so you can immediately apply what you to know to your own situation. We don't give you a litany of techno-speak. Instead, we frame everything in business terms that you can understand and apply right away.
You will learn how to:
Identify the right business goals for your marketing
Develop your website as the hub of your B2B marketing program
Assess your content's value and analyze delivery options
Attract the right leads with search marketing
Improve your client reach with e-mail marketing
Use social media to broadcast content and engage with customers
Add effective mobile marketing to your mix
Use testing and measurement to optimize your marketing communications
Develop your integrated marketing plan across online and offline elements
Sell that plan within your organization
Additionally, once the class is over, you'll be able to access our instructors for 60 daysto address follow-up questions and issues.
Want to learn more? Click here to talk with a Biznology JumpStart Workshops associateabout the right program for your business.
The Bottom Line
When you walk out of a Biznology JumpStart Workshop, you'll be armed with a plan for exactly what to do next in your situation—not just a list of notes you toss in your bottom desk drawer. What's more, you'll have access to our instructors for 60 days after your class for follow-up questions and issues.
Don't wait for more time to go by while your B2B digital marketing program falls behind your competitors. If you ever wanted to know what the secret is behind successful B2B marketers, this is your chance.
Click here to learn more about how to put a Biznology JumpStart Workshop to work for your business today.