Image via Wikipedia
by Aaron Kim
With four games to go, much can still happen in this 2010 World Cup on the field, but the results for social media are already in–the World Cup has more than lived up to its billing as the biggest social media (and even Internet) event of all time, sur[passing the 2008 election of Barack Obama as U.S. President. While you wait for the big game on Sunday, you may want to check my Social Media highlights for the major sports event in the world.
Internet Buzz
So now that the 2010 FIFA World Cup, according to CNN (via Akamai), has been declared the most popular Internet event ever, let's look at a snapshot of Akamai's Net Usage Index as of this writing:

The Most-Tweeted World Cup Event
The CNN article mentioned above states that, despite the popularity of the World Cup, Twitter's single biggest moment was still "the Los Angeles Lakers' victory against the Boston Celtics at the NBA Championship", which "generated a record 3,085 tweets per second as the game ended". Naturally, a few days after, a World Cup game dethroned Kobe Bryant and friends. If you guessed that it was one of the US games against Slovenia or Ghana, you were probably close, but not quite right. That honor goes, surprisingly enough, to Japan's win over Denmark, with 3,283 tweets per second.
Cala a Boca Galvao
For several days, a Brazilian Internet meme/prank dominated the trending topics in Twitter, requesting the lead sports commentator in Brazil to shut up. Read more about it at the New York Times and watch the video prank at YouTube.

Lead weekly news magazine in Brazil (Veja)
brings the #calabocagalvao meme to center stage
(via
@dystyler
)
Old Media vs. New Media
Rede Globo, the largest TV network in Brazil (and arguably the third largest in the world, behind just CBS and NBC) clashed with Brazilian coach Dunga, when he curtailed their privileges in the national team coverage. A Twitter campaign (#diasemglobo, "a day without Globo TV") was asking Brazilians to boycott the TV station during a game and switch to the competition. Who won? It depends on who you ask. Some claim that the campaign was a success and responsible for a drop in audience, while others say that it made no difference whatsoever.

Players Using Twitter
My Twitter list of World Cup Players is updated with 56 players now. You may want to give it a try and see what the players are talking about using StreamGraph. Here's a snapshot I took last night (just use @aaronjuliuskim/worldcup2010players as the keyword):

Visualization and Social Media
There are plenty of creative visualizations created around Social Media content especially for the World Cup, like this one based on Facebook activity, courtesy of the New York Times. You'll find a good list at Mashable.com, but the Guardian's World Cup 2010 Twitter replay is my favorite. It shows in a stunning way the fans' reactions via the microblog service as the action developed for each game. You can feel all the pain in my Brazilian heart when you play the Brazil vs. Netherlands game. Here's a snapshot of the key moment of the game: Felipe Melo (who's in Twitter, by the way) losing his cool and getting a red card.

f you are into live visualization and have an iPad, I highly suggest you to follow the remaining matches via LivePitch. It's still a bit raw, but it can give you a glimpse of how we may be following the next World Cup. Hopefully Brazil can do better the next time

---

Like this post?
Sign up for our emails here.
---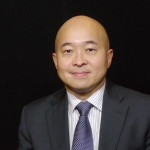 Aaron Kim currently heads the Digital Social Collaboration Centre of Excellence at RBC. In the past, he tried his hand as solutions architect, Basel II consultant, performance engineer, Java programmer, Unix administrator, and environmental biologist. He's married to Tania and they have a son, Lucas.