I spoke a couple of weeks ago at Converseon's round table for Social Media Measurement. I've been on vacation so it's taken a bit of time for me to link to this video, but a few people asked about it, so here goes. (Thanks to my colleagues at Converseon for the hard work of shooting, editing, and posting the content on YouTube.) My presentation is in two parts, with the first part focusing on reputation measurement—showing the kind of tool that average business people need to monitor the ongoing conversations about their brands and their industries. Part 2 focuses more on the organizational issues in social media, as marketers, market researchers, and public relations professionals each focus on a different aspect of social media, rarely involving their fellow specialists in what they do. We "experts" must take the responsibility of providing the needed tools and helping different professional disciplines work together if we expect social media to become a measurable part of the marketing strategy for the average company.
---

Like this post?
Sign up for our emails here.
---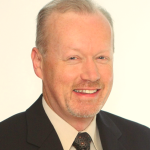 Mike Moran has a unique blend of marketing and technology skills that he applies to raise return on investment for large marketing programs. Mike is a former IBM Distinguished Engineer and a senior strategist at Converseon, a leading social consultancy. Mike is the author of two books on digital marketing, an instructor at several leading universities, as well as a Senior Fellow at the Society for New Communications Research.